Yesterday HEXUS published its 15-page review of the new Nvidia gaming champ, the GeForce GTX 1080 Ti (16nm Pascal). This graphics card didn't disappoint with its playable 4K frame rates, and significant performance uplift over the regular GTX 1080, which received a pleasing price cut after the GTX 1080 Ti was announced at GDC.
You will have noticed that in the GeForce GTX 1080 Ti review HEXUS used the Nvidia GeForce 378.78 WHQL drivers and now these are available for mass consumption via the regular avenues (either the GeForce Experience and direct download). Nvidia seems to be particularly proud of this new driver set as it is said to deliver "breakthrough DirectX 12 performance optimisations," plus continues the green team's work in optimising for Vulkan. Furthermore, this 378.78 WHQL driver brings official support for the new GeForce GTX 1080 Ti, and is the game ready driver for Tom Clancy's Ghost Recon Wildlands.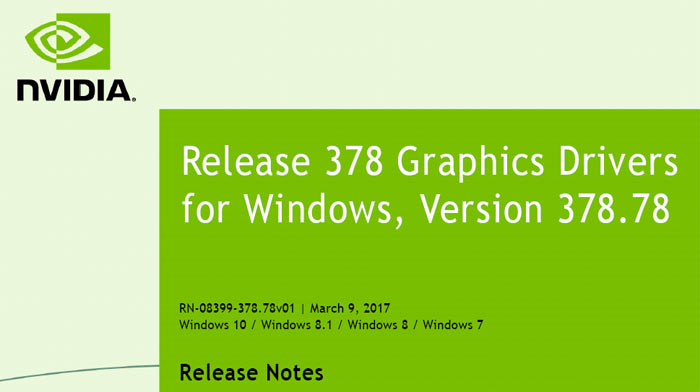 The introduction of DirectX 12 and Vulkan seemed to show that AMD's graphics cards aged better. These modern new graphics APIs responded well to AMD's graphics architecture - not surprising given the interrelationships between these APIs. In some ways it left Nvidia playing catchup, shored up by its excellent DirectX 11 performance.
Nvidia claims some big performance uplift stats in a raft of DirectX 12 games. For example performance has "increased by 33 per cent in Rise of the Tomb Raider, 23 per cent in Hitman, and by an average of 16 per cent across the five most popular DirectX 12 titles". See the chart below for examples.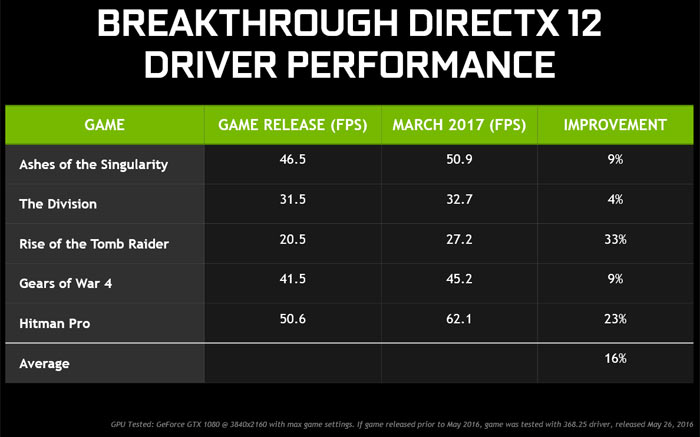 Meanwhile, Nvidia claims similar optimisations are ongoing for Vulkan API games and applications. Check out its progress chart for Vulkan driver performance progress from June last year to today.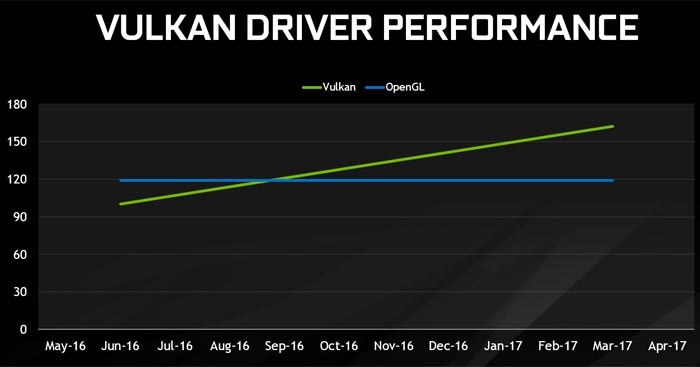 In other driver developments support and optimisations arrive for Tom Clancy's Ghost Recon Wildlands. Nvidia recommends a GTX 1060 or better for a high quality graphical experience at 1080p in Wildlands. If you are an Nvidia user you will likely be happy to hear about specific enhancements for your graphics hardware in this game. Benefits such as DirectX 11-Enhanced Volumetric Lighting technology, HBAO+ Ambient Occlusion, Turf Effects, and Ansel are all available to green team players.
Nvidia will make its GeForce GTX 1080 Ti graphics cards available from 10am PST today (that's 6pm this eve in the UK). Graphics cards will be available in 238 countries and territories from Nvidia and Nvidia partners Asus, EVGA, Gainward, Galaxy, Gigabyte, iGame, Innovision 3D, MSI, Palit, PNY and Zotac. A week later SCAN has scheduled its GTX 1080 Ti launch event in Bolton.