If there were any doubts that Nvidia would use its GeForce GTX Gaming Celebration bash to launch the long awaited GTX 1080 Ti graphics card, they must now be dismissed. A heavier hint has never been seen than the countdown on display if you navigate to GeForce.com.
As you can see below, there's a little under a week to wait until the time that the #ULTIMATEGEFORCE will be revealed. 'It's almost TIME' reads the strapline, with the 'TI' portion of the word 'TIME' emboldened - they should have made it Nvidia green too.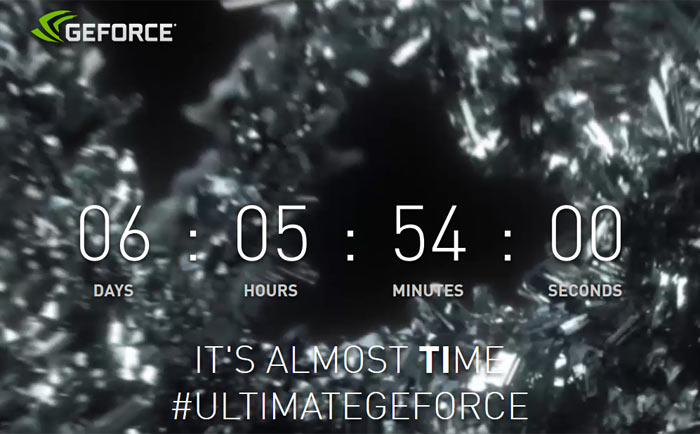 Further confirmation, if needed, can be found in the GeForce.com website HTML code. According to Guru3D the string 'GTX1080Ti' can be found there, but I didn't see it in my Firefox console just now…
A week ago we saw the Nvidia GDC 2017 sessions published and a few hours later we noted that Nvidia had scheduled the GeForce GTX Gaming Celebration for Tue, 28th February, 2017, 6:30 PM – 11:30 PM PST. That event page didn't let us in on much detail, other than free food and drinks being available alongside "a few other amazing surprises." It was thought that perhaps some sniff of the GeForce GTX 1080 Ti would be provided as a spoiler against AMD's similarly timed 'Capsaicin and Cream' event.
Current informed best guestimates of what the GTX 1080 Ti will deliver are; a 16nm GP102 GPU with 3,328 CUDA cores. The GPU is expected to run at 1.5GHz, boosting to 1.623GHz and offering a compute performance of 10.8TFLOPS. Its 10GB of video memory is expected to run at an effective 10GHz on a 384-bit bus, resulting in 480GB/s memory bandwidth. TDP of this card will be in the region of 250W.
In less than a week we should know a lot more about the GTX 1080 Ti in performance terms and hopefully get some pricing and availability details. At the same time the AMD Vega GPU with HBM2 is expected to break cover - exciting times.