Making good on its promise to reveal the compact graphics cards teased last week on Facebook, MSI has released the Aero ITX series. In all MSI has launched eight new mini ITX friendly cards ranging from an overclocked 8GB GTX 1070 down to a 2GB GTX 1050.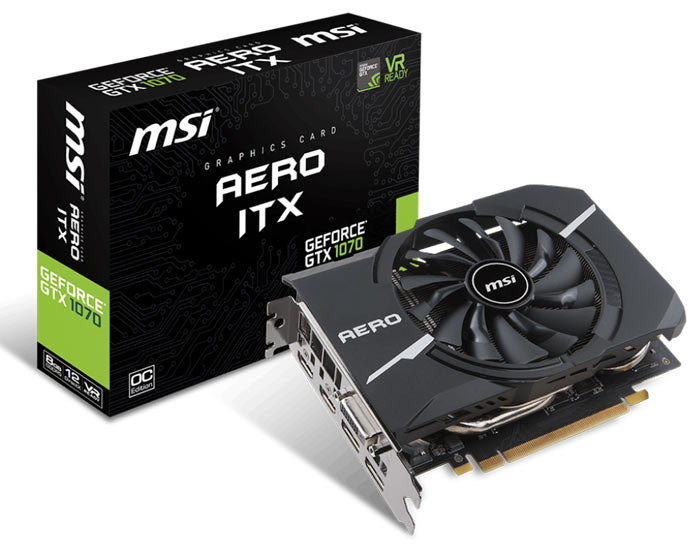 Below I have linked the official product page for each card, alongside its GPU base / boost clocks:
From the above card names you can recognise how much VRAM is installed (2G, 4G etc) and whether the card is overclocked as standard (OC). As usual, the 3GB variants of the GTX 1060 offer fewer active GPU cores - 1152 instead of 1280 units.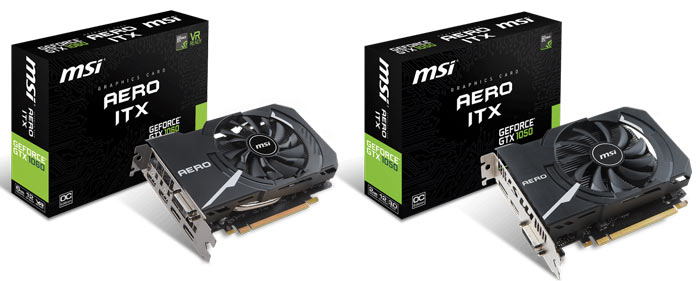 All the above offer a 'SMALL PACKAGE, BIG PUNCH', claims MSI, and it says they are perfect choices for small form factor gaming and HTPC use. At first glance you might not realise it, but sizes vary quite a lot between the different GPU models. For example the GTX 1070-based MSI Aero ITX cards measure 18.4 x 14.4 x 4cm, a GTX 1060 is 17.5 x 11.5 x 3.8cm, and I checked one of the GTX 1050 models which was again smaller at 15.5 x 11.2 x 3.7cm.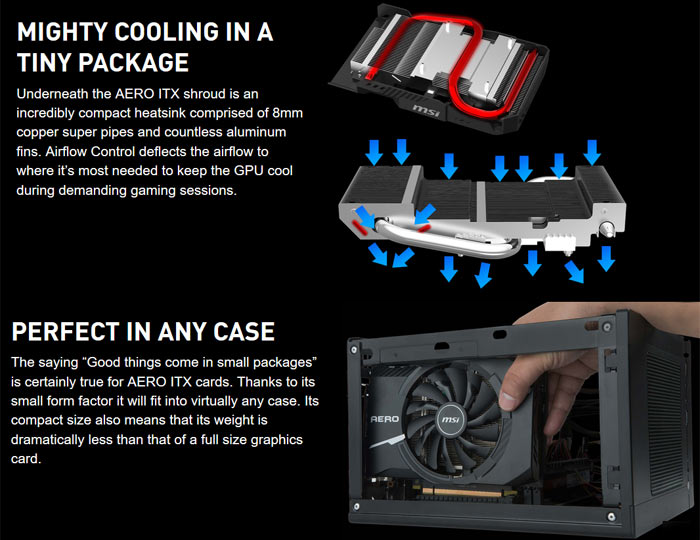 The new MSI ITX thermal design features:
TORX Fan with
- Dispersion fan blade: Steep curved blade accelerating the airflow.
- Traditional fan blade: Provides steady airflow to massive heat sink below.
Zero Frozr Stopping the fan in low-load situations, keeping a noise-free environment.
Airflow Control Improves cooling efficiency by using advanced aerodynamics to focus the airflow.
Super Pipe Improved dissipation by using thick 8mm heat pipe in optimized layout.
At the time of writing I can't see any pricing or availability details for the MSI Aero ITX cards.