Palit Microsystems has released a new GeForce GTX 10 series graphics card with passive cooling. The Palit GeForce GTX 1050 Ti KalmX is the first passively cooled GTX 1050 Ti we have seen so far, though we have seen several low profile examples with this GPU. With the new GTX 1050 Ti KalmX installed, users should be able to enjoy a "silent 0dB gaming environment" in modern AAA games running at "full 1080p HD @60 fps," claims Palit.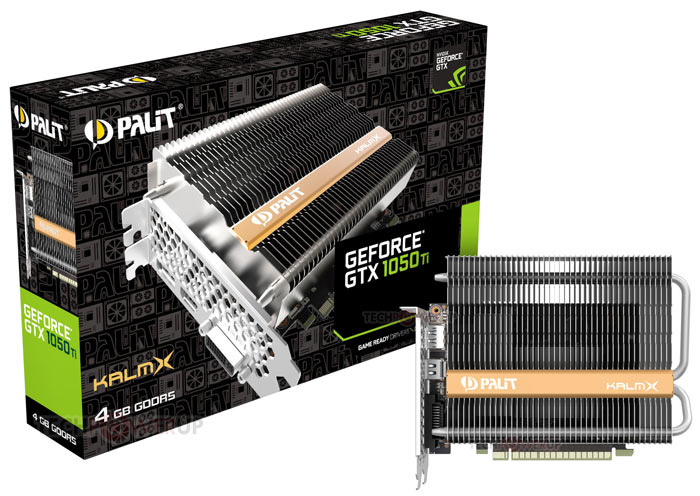 Central to this graphics card's claim to fame is its design dominating cooler. This chunky conducting metal construction is connected directly to the GPU via a copper base construction. Twin nickel plated heat pipes pierce the copper block, bend round and thread through the many (also nickel plated) fins.
You can see from the top-down shot of the graphics card that the fins are actually within the dual-slot confines, not spilling into the next expansion slot space. However this card has a bit of height above the bracket lip which is something to consider. According to the specs it is 182mm long x 142mm tall. That's 30mm taller than Palit's own actively cooled GeForce GTX 1050 Ti Dual (166mm long x 112mm tall).

While the sizes are drastically different between the passive and actively cooled cards, the graphics and memory clocks are the same; GPU Base Clock: 1290MHz / Boost Clock: 1392MHz, Memory Clock: 3500MHz (DDR 7000MHz). Of course the clock speeds could easily throttle down if there is a lack of airflow or other reason for heat build-up.
Other standard specs are the 4GB of GDDR5 RAM on a 128-bit bus, Memory Bandwidth of 112GB/s, 768 CUDA cores, 75W max power draw. Connectors are provided for HDMI 2.0, Dual-Link DVI, and DisplayPort (one of each).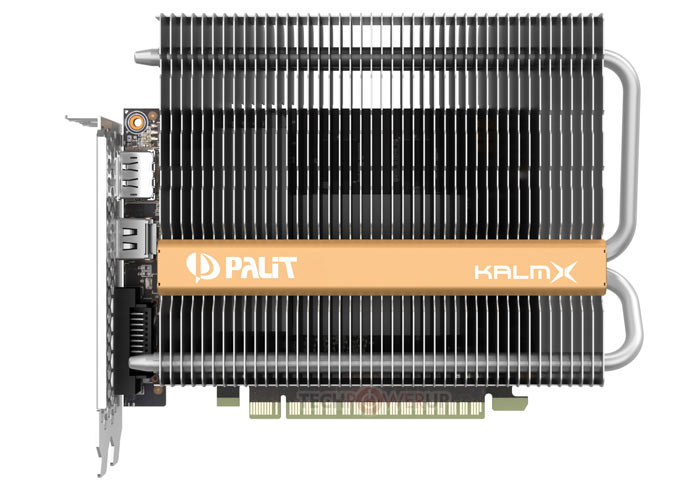 Pricing and availability in the UK are yet to be detailed. However, as this card is released we should have some reviews soon - Guru3D says it has one on the test bench, for example.