PC components maker and AiC partner Galax has unveiled its "2017 Secret Weapon" - an as yet unnamed single slot GeForce GTX 1070 graphics card. Galax utilises a short PCB with an extension housing the cooling fan, creating a slim but long PCI-E card.
Over the weekend there was a special event in Wuhan, China called the 2016 Galax & Nvidia Carnival, this was apparently the eighth year for the show. At the event Galax showed off various hardware including its HOF range of cards, and there were various presentations and an OC contest too.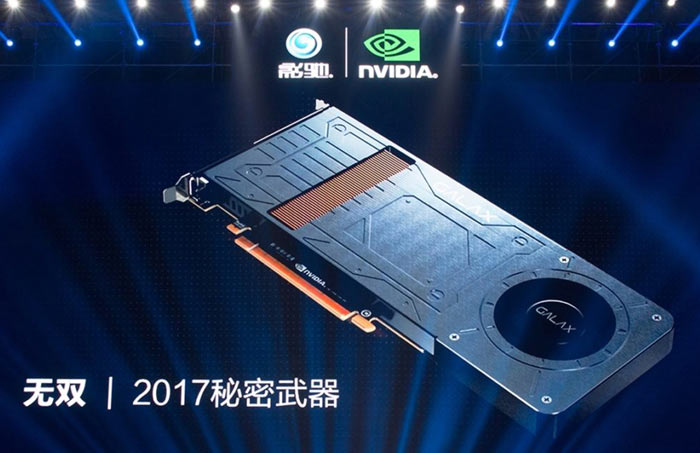 One of the highlights of the Carnival event was the teasing of a Galax branded GeForce GTX 1070 graphics card in single slot form factor. As you can see in the pictures taken by PCOnline, this is indeed a slim card. It looks pretty handsome in its metallic livery and sleek design. The design features an air intake on its face exposing copper cooling fins, and a fan further along the card, installed on an 'extension' beyond the length of the PCB.

As mentioned above, Galax referred to this card as its "secret weapon" for competing in 2017. Unfortunately we didn't learn any of its vital specs to discover what differences, if any, this card will offer in performance compared to reference designs. Its connections can be seen in some photos and are limited to; 1 x DisplayPort, 1 x HDMI, and 1 x DVI, plus the requisite 8-pin power connector.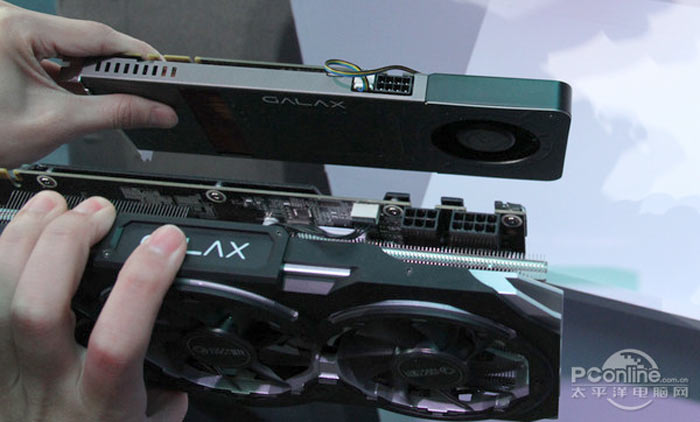 Some good news is that the slim-line single slot card will be launched in early 2017 and that its price is competitive, said to be around $379.
GTX 1060 at 3GHz +
One more nice news nugget from the 2016 Galax & Nvidia Carnival was that a Galax GeForce GTX 1060 HOF GOC managed to hit 3010MHz (3.01GHz) on its Pascal-based GP106 core. At this record breaking speed its pixel fill rate performance was said to be better than that of a GTX 1080…