Taiwan supply chain makers have told industry news journal DigiTimes that AMD's upcoming Godavari APUs will be launched at the end of May. Looking further ahead the sources indicated that AMD's first 14nm APUs will be arriving in 2016.
AMD's Godavari APUs are also known as the 'Kaveri Refresh' processors. These processors will be architecturally identical to the Kaveri chips on the market now. Features of Godavari will include up to four 'Steamroller' cores, Radeon graphics based upon the GCN 1.1 architecture with up to 512 stream processors, a dual-channel DDR3 memory controller and HSA.
It probably won't surprise anyone to hear that the new Godavari range of processors from AMD will be built upon the 28nm process. They are also expected to use the FM2+ form factor and drop-in existing motherboards. While it was initially thought that Godavari would kick-start the A-8000 series of APUs recent reports say that they may simply slot into the A-7000 series nomenclature. This might be a decision based upon the slight improvements they offer over Kaveri – just clock speed bumps for the CPU and GPU cores. Examples of upcoming Godavari APUs and their clock speeds were listed by CPU World late last week.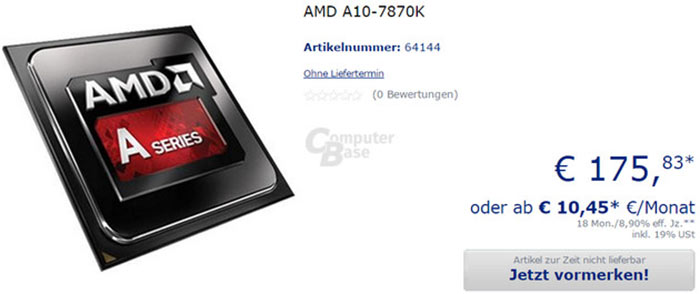 According to the DigiTimes industry insider information, the first 14nm APUs from AMD will launch next year. These Summit Ridge APUs are to be produced by Samsung Electronics and Globalfoundries. AMD will follow up with Bristol Ridge mainstream APUs, and the Raven Ridge-series in 2017 say the sources. While Bristol Ridge retains the 'Excavator' cores it is projected that Raven Ridge will incorporate AMD's next-gen Zen cores.