AMD reinvigorated its desktop accelerated processing unit (APU) line-up this January with the launch of Kaveri-based processors. These brought architecture improvements for both the CPU and GPU through the use of the enhanced Steamroller cores and GCN graphics, respectively.
Mainstream desktop APUs make a reasonable case for inclusion in a budget PC build, but starting at a thermal design point (TDP) of 45W, they're not ideally suited for very small, cheap systems that sell well in emerging countries.
AMD has a solution for such markets, however, as low-power Kabini and Temash APUs offer adequate performance for everyday computing. Plying 3.9W-25W TDPs, the problem thus far is one of form factor for do-it-yourself PC builders, as these APUs are only available in Socket FT3 (BGA, really) or embedded form. This means the APUs are integrated into motherboards, reducing choice and curtailing an upgrade path.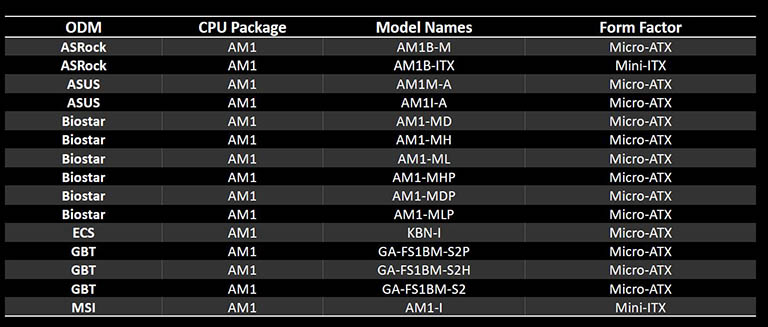 Now, though, AMD is making Kabini APUs available in a user-upgradeable, socketed form factor called FS1b, which has been previously used for laptop processors. First shown at the Consumer Electronics Show at the turn of the year, FS1b-based boards are to be made available from the usual roster of partners - ASRock, Asus, Gigabyte, Biostar, ECS and Gigabyte - and presented in mini-ITX and micro-ATX form factors.
The combination of socketed Kabini APU and FS1b is now referred to as the AM1 platform or package. AMD isn't divulging the exact specification of AM1 APUs just yet, but we do know they'll feature up to four Jaguar CPU cores and GCN graphics.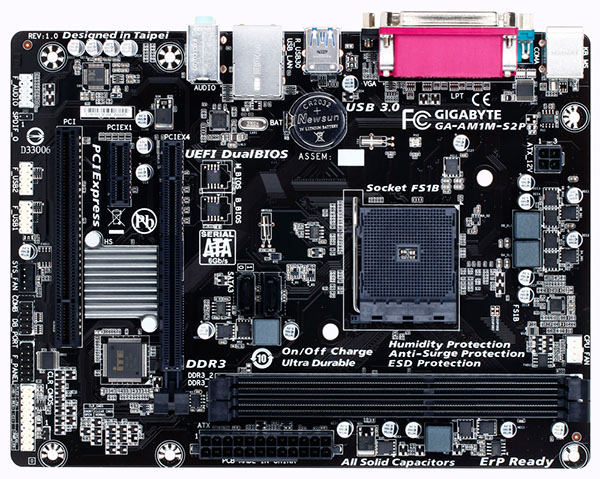 And here's a micro-ATX AM1-supporting motherboard from Gigabyte. There's no separate chipset core logic because the Kabini APU, more accurately referred to as a system-on-chip (SoC), integrates everything into the package, including a single-channel memory controller capable of interfacing with up to 16GB of DDR3-1,600 RAM, dual SATA 6Gbps, two USB 3.0, and a flexible array of video outputs.

Productised as AMD Athlon and Sempron APUs, these low-power chips appear to be a good fit for everyday systems that don't need huge processing power. It is likely that the initial raft of APUs will use either 15W or 25W TDPs. Following on from the nascent success of Intel's Next Unit of Computer (NUC), AMD could strike a chord with PC users who want a small, sleek system that, unlike the rival Intel Bay Trail, is upgradeable on the CPU front. We reckon these APUs could make real sense if presented in a more NUC-like form factor, rather than just on plain-Jane micro/mini-ITX.
AMD says it expects AM1-based Sempron to start from $39 (£30) rising to $60 (£45) for the faster Athlon. There's no word on speeds and feeds at the moment.