AMD unveiled its first ARM-based server chips at the Open Compute Summit V in San Jose, California yesterday. The new AMD Opteron A1100 series of chips, codenamed 'Seattle', will be fabricated using the 28nm process. Sampling of these four or eight core ARM Cortex-A57 processors by customers should start in the current quarter along with the introduction of a development platform to aid software design for the servers. AMD also said that it would introduce a new micro-server design making use of the Opteron A-series, as part of the Open Compute Project.
Suresh Gopalakrishnan, CVP and general manager of the AMD server business unit said that the AMD Opteron A-series addresses the changing needs of data centres. He added that "The new ARM-based AMD Opteron A-Series processor brings the experience and technology portfolio of an established server processor vendor to the ARM ecosystem and provides the ideal complement to our established AMD Opteron x86 server processors."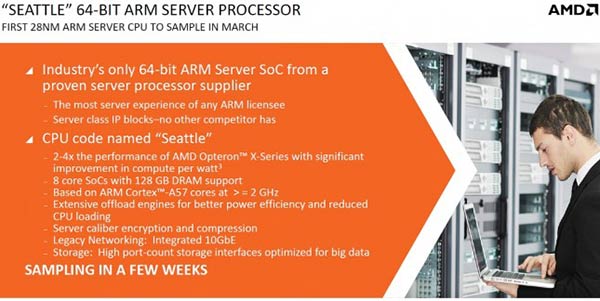 AMD Opteron A1100 Series processor specifications:
4 or 8 core ARM Cortex-A57 processors
Up to 4 MB of shared L2 and 8 MB of shared L3 cache
Configurable dual DDR3 or DDR4 memory channels with ECC at up to 1866 MT/second
Up to 4 SODIMM, UDIMM or RDIMMs
8 lanes of PCI-Express Gen 3 I/O
8 Serial ATA 3 ports
2 10 Gigabit Ethernet ports
ARM TrustZone technology for enhanced security
Crypto and data compression co-processors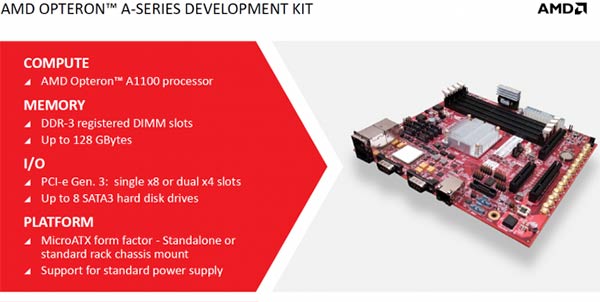 AMD Opteron A-Series Micro-ATX development kit includes:
An AMD Opteron A1100 Series processor
4 Registered DIMM slots for up to 128GB of DDR3 DRAM
PCI Express connectors configurable as a single x8 or dual x4 ports
8 Serial-ATA connectors
Compatibility with standard power supplies
Ability to be used stand-alone or mounted in standard rack-mount chassis
Standard UEFI boot environment
Linux environment based on Fedora, which provides developers with a rich set of tools and applications including; Standard Linux GNU tool chain, Platform device drivers, Apache web server, MySQL database engine, and PHP scripting language, Java 7 and Java 8.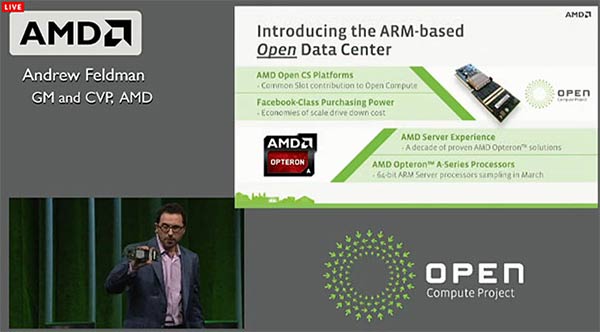 At the keynote address, Andrew Feldman, another CVP and general manager of the AMD server business unit, said that 'Seattle' marks the dawn of a new era for data management, reports ZDNet. He went on to say that this is the first generation of many "There will be generation after generation after generation and each will improve and be more closely tied to the software and hardware enclosure it lives in." Feldman asserted that ARM CPUs will have a "monstrous role" in future data centres in the near future as "in the history of compute, smaller lower-priced CPUs have always won". AMD will be at the forefront of this ARM-powered server wave, he promised.
While sampling of the chips and developer boards is expected this quarter we don't know when mass availability of these new Opteron chips will begin.