It's well known that AMD has slowly been slipping behind in the CPU game since the high of its ground-breaking Athlon 64 processor, which set the trend for consumer 64-bit computing. Intel, with its tick-tock release regime has been deploying a new architecture and smaller chips every two years with solid consistency, whilst, often thanks to GlobalFoundries, AMD has been stuck focusing on only 'tock' over this same period.
Right now, AMD's still working on 32nm SOI and standard 28nm processes, whilst Intel is sitting comfy with 22nm 3D Transistor technology. We revealed in an earlier article that chip fabrication firms are finally heating up the competition and mounting an offensive against Intel, however in the meantime, the firm has had no choice but to focus on the 'tock' architectural redesign, where, rather disappointingly, the firm suffered double trouble when its Bulldozer eight-core architecture turned out to be somewhat of a flop.
AMD has one saving grace, however, which is its APU line-up of chips which combine a CPU and a GPU on a single die. Intel also bundles Intel HD graphics on its latest Core i-series processors, however, despite larger chips, AMD has been able to stay ahead of the game with graphics expertise obtained from the buyout of ATI.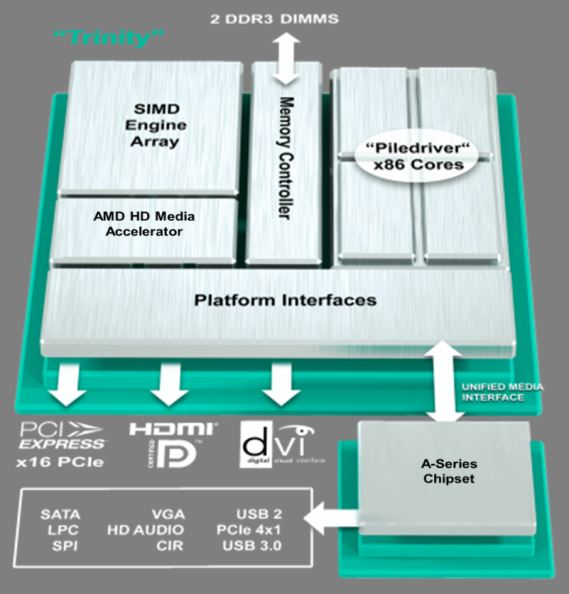 Looking likely to ship next week, 'Trinity' is the firm's latest APU design, which features new Piledriver CPU cores (an improved Bulldozer) and new integrated graphics based on the Radeon HD 6xxx line with some flair from the firm's latest GCN Radeon HD 7xxx series.
Needing to reclaim its market share, AMD is stating that it will offer its latest tech with performance of an Ivy-Bridge Core i5 at the cost of a Core i3, clearly denoting that a Trinity APU will provide superior cost-performance ratio.
We're not expecting much from the CPU, it'll simply be attempting to close the gap between itself and current low-end Intel processors, however the Trinity APU promises to offer superior performance to Intel's latest HD 4000 graphics cores and could provide an appealing solution to those who need GPGPU performance or a mid-range gaming experience who can't afford to purchase a dedicated GPU. We'll make sure to get benchmarks to you when the full NDA lifts.