There's been a fair bit of concern lately that Intel is pulling away from the pack when it comes to silicon manufacturing technology. The firm is currently leading the industry by being the first to deploy a mass-production 22nm process and, to utilise a more efficient 3D Tri-Gate transistor design.
Competitor TSMC is, without a doubt, playing catchup and is attempting to bypass 22nm, heading straight for 20nm, which will implement the firm's own take on 3D Tri-Gate - more generically termed FinFET - transistors, however, mass-production, which is likely to begin half-way through 2013, will only usurp Intel for around half a year, as the company has already announced that it expects to reach mass-production of 14nm parts in 2014, with samples showing-up as early as 2013.
Responding to these claims, silicon race turtle, GlobalFoundries, a firm often plagued with yield issues and typically behind on the latest manufacturing processes, has stepped-up with a new hybrid approach that promises to cut-down on the time it takes to advance manufacturing techniques by a year.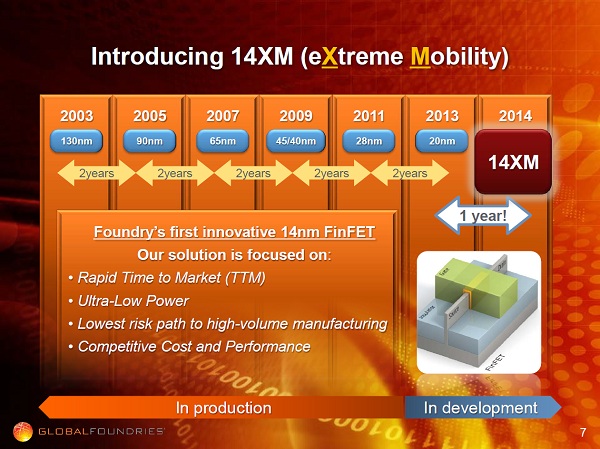 GF is proposing to match Intel's 2014 target for mass-production, 14nm FinFET transistors, however, will accomplish this by using a proven, high-yield 20nm interconnect. The end result is a process that offers-up the efficiency the latest and greatest transistors, whilst making it easy to port larger, traditional FET designs to the new hybrid process, which the firm has named 14XM.
Of course, 14XM won't be as efficient as a pure 14nm process, however will still offer power savings of 40 to 60 per cent and/or performance increases of 20 to 55 per cent over comparable 20nm designs that employ traditional FETs, enough to offer-up some serious competition against Intel, something which may make AMD think twice about its future with GF.
ARM was one of the first to applaud GlobalFoundries for its innovative approach and, expects that other companies, including TSMC, may now decide to take a similar approach to accelerate themselves towards Intel's pole position.