AMD Trinity Accelerated Processing Units (APUs) for desktop socket FM2 are expected to be made available to retail on 1st October according to a rumour/report published on Japanese website Hermitage Akihabara. The website has pictures of the APUs and a feature and information chart of the APU key specifications. All these 32nm A-series APUs feature the "Piledriver" CPU architecture and integrated Radeon HD7000 series graphics.
A6-5400K
(2 cores / 3.6GHz/turbo 3.8GHz/1MB L2/TDP 65W/HD 7540D graphics/OPN AD540KOKA23HJ)
A8-5500
(4 cores / 3.2GHz/ turbo 3.7GHz/4MB L2/TDP 65W/HD 7560D graphics /OPN AD5500OKA44HJ)
A8-5600K
(4 cores / 3.6GHz/ turbo 3.9GHz/4MB L2/TDP 100W/HD 7560D graphics /OPN AD560KWOA44HJ)
A10-5700
(4 cores / 3.4GHz/ turbo 4.0GHz/4MB L2/TDP 65W/HD 7660D graphics /OPN AD5700OKA44HJ)
A10-5800K
(4 cores / 3.8GHz/ turbo 4.2GHz/4MB L2/TDP 100W/HD 7660D graphics /OPN AD580KWOA44HJ)
Enthusiasts have been waiting for quite a long time to get their hands on desktop Trinity APUs. The mobile Trinity chips were launched in May, meanwhile desktop Trinity APUs announced in June have only trickled onto the market built into machines made by OEMs like HP and ASUS. Architectural improvements within the new Trinity APU are supposed to produce a 25 to 50 per cent performance boost over their Llano predecessors.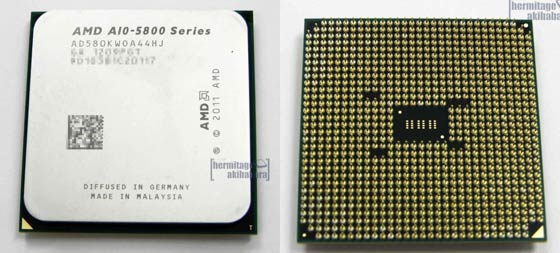 Japanese tech website Hermitage Akihabara managed to photograph five of the A-series 5000-family APUs revealing the OPN codes, showing the processors to be "production ready". The APUs are shown to be in the FM2 socket format. The chart above shows the base frequency and the Turbo Core frequency alongside other useful info such as L2 cache, number of cores, TDP and Radeon graphics chip. An article about the launch rumour published on CPU-World says the APUs in the above chart with the "K" suffix are supplied multiplier unlocked.
Only this single source features the rumoured release date of 1st October whereas other CPU focused websites estimated a late October launch for the new range of AMD Trinity desktop APUs.