According to both a media report and an X-bit labs source, AMD will be unveiling its Trinity A-series line-up on May 15th, though, alas, only for notebooks, with desktop offerings to be introduced at a later date.
It's suspected that the early announcement will help to draw media attention to the new APUs, avoiding direct conflict with Intel and its Ivy Bridge processors at the upcoming COMPUTEX 2012 trade show. AMD clearly sees its greatest sales potential in the ultraportable market, where Trinity is expected to offer up significant performance at a comparatively lower cost.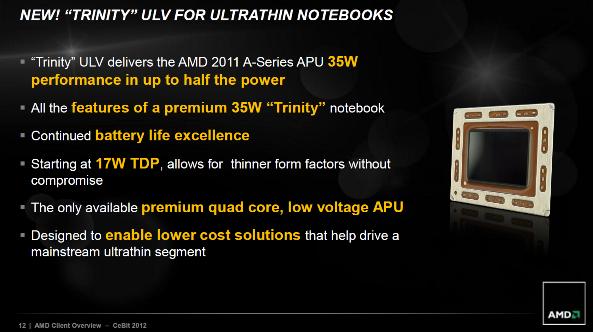 AMD is claiming that ultra-low power 17-watt APUs based on its Trinity architecture will be able to achieve performance in-line with current 35-watt Llano offerings, which, when considered as a CPU, currently sit at the same level as Intel's 17-watt Core i5-2467M, with the Llano GPU falling just shy of the performance of the NVIDIA GeForce GT525M, meaning it's two to four times the performance of Intel's Sandy Bridge GPU offerings.
With Intel claiming a GPU performance boost of around two fold, we suspect Ivy Bridge will come out on top in terms of CPU performance, though AMD should just pull away with a win on the GPU front. With the long-standing tradition of AMD processors typically being priced lower than Intel's, AMD has a real chance in the ULP 17-watt segment if it can effectively push forward its brand; remember, 'Ultrabook' is an Intel trademark, whilst AMD is pushing the term 'Ultrathin.'