We've heard suggestions for quite some time that new AMD CPUs and APUs containing the firm's 'Piledriver' cores will be able to reach and perhaps surpass 4GHz, however it has now been revealed just how AMD plans to pull this off and, it's with the aid of Resonant Clock Mesh technology.
The technology, developed by Cyclos Semiconductor, enables AMD to either, reduce chip-wide power consumption by 10 per cent, or increase clock-speed by 10 per cent with no impact on TDP, allowing the firm to reach new highs in speed and performance or new lows in power consumption for silicon bound for portables, all without the need of moving to a new manufacturing process.
"We were able to seamlessly integrate the Cyclos IP into our existing clock mesh design process so there was no risk to our development schedule. Silicon results met our power reduction expectations, we incurred no increase in silicon area, and we were able to use our standard manufacturing process, so the investment and risk in adopting resonant clock technology was well worth it as all of our customers are clamoring for more energy efficient processor designs," stated AMD designer, Samual Naffziger.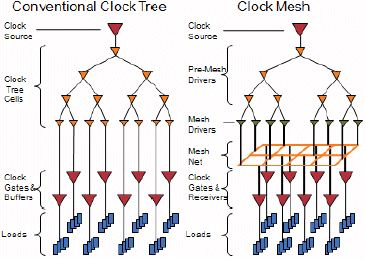 The Resonant Clock Mesh functions by employing a mesh throughout the clock circuitry that, with the aid of Cyclos inductors, interacts with the signal's magnetic field, absorbing wasted energy, storing it in the mesh and subsequently, injecting the energy back into the system. The end result is simple, less wasted energy that would otherwise require dissipating as heat.
We eagerly await AMD's first 4GHz+ octo-core processor.