Yesterday, ARM unveiled its new Cortex-A7 MPCore processor that could have important implications for the mobile-device market.
Using the advanced technology of ARM's yet-to-be-glimpsed Cortex-A15 processor, the 28nm A7 is capable of providing 50 per cent greater performance than the Cortex-A8 found in phones like the iPhone 4, whilst being a mealy one-fifth of the size and most astonishingly, reckoned to be five times more energy efficient.
As the A7 supports all the same advanced features of the A15, ARM has been able to create a high-speed interface with incredibly low response times, making it possible to match up an A7 with an A15 for what the company has dubbed 'big.LITTLE processing', where, as need requires, it is possible to transparently switch between the low-power A7 and the high-performance A15 processors without any knowledge from the operating system.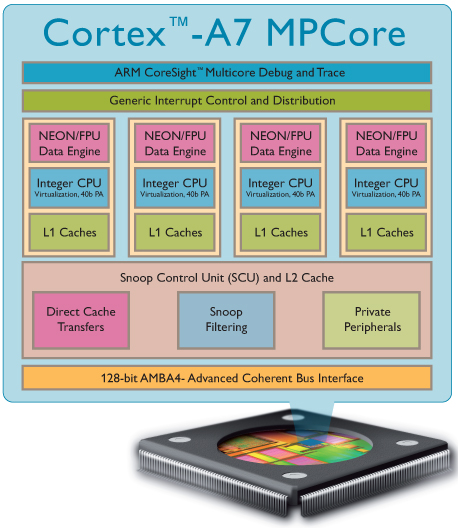 This has two major implications for the mobile device market. In a similar concept to the low-power core found on NVIDIA's Tegra 3, it will become possible for high-end A15 devices to use an A7 co-processor for low-power operation, vastly extending device battery life. What's also unique is that low power does not mean low performance. Many of the applications that are intensive on today's phones will be able to benefit from this low-power operating mode, thanks to the incredible yet efficient performance of the A7, ARM says.

Being five times smaller than an A8 and five times more energy efficient, chips integrating the A7 will not only be cheaper to produce but devices that include them will be able to operate for acceptable periods of time on smaller batteries, which could also mean smaller phones. ARM suggests that with these cost savings we may see phones with the performance of this year's high-end smartphones falling within the £70 price bracket in 2013. Here's hoping.

A full list of specification goodies can be found on ARM's Website.