Samsung Tech Day 2019 took place yesterday at its First Campus in San Jose California. Among the tech talks, the firm made a number of product announcements. Perhaps the most interesting to HEXUS readers was the announcement of the Exynos 990 premium mobile processor, but it also talked about the 5G Exynos Modem 5123, its third-generation 10nm-class (1z-nm) DRAM, and 12GB LPDDR4X uMCP (UFS-based multichip package).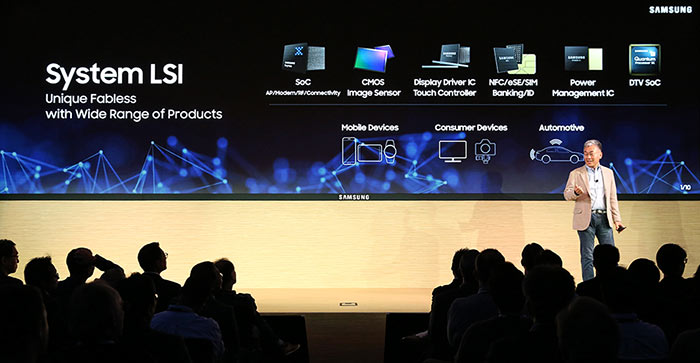 Before going further, it is worth mentioning that Samsung's Exynos 990 premium mobile processor and 5G Exynos Modem 5123 are built on the firm's most advanced 7-nanometer (nm) process technology, using extreme ultra-violet (EUV). This component pairing is "perfectly adapted for high-volume 5G and AI applications, and are designed to help the world's most ambitious enterprises, large and small, achieve their goals of bringing new capabilities to their markets," said Inyup Kang, president of System LSI Business at Samsung Electronics.
As well as being manufactured using a refined process, the Exynos 990 is notable for another advance - in graphics power. Recently Arm introduced a new Valhall GPU architecture, and inside the Exynos 990 SoC is an embedded Arm Mali-G77 GPU, based upon this technology. In brief this GPU should improve graphic performance or power efficiency by up to 20 percent - the device maker can tune it to work within these constraints.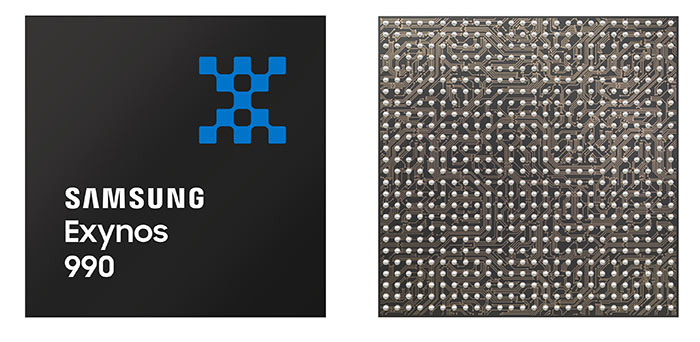 The new GPU helps the "extremely powerful and flexible tri-cluster CPU structure," inside the Exynos 990 (based around high-performance Cortex-A76 cores and power-efficient Cortex-A55 cores) to achieve premium performance. Furthermore, the Exynos 990 features a dual-core neural processing unit (NPU) and improved digital signal processor (DSP) that can perform over ten-trillion operations (TOPs) per second, according to Samsung's own testing. Samsung devices will use the NPU for facial recognition, scene detection and so on.
Other nice features of the Exynos 990 SoC are its support for LPDDR5, with data rates of up to 5,500Mbps, the inclusion of a 120Hz display driver, support for multiple displays (like foldables), an ISP that supports up to 6x cameras (up to 3x simultaneously) and a max camera resolution of 108MP.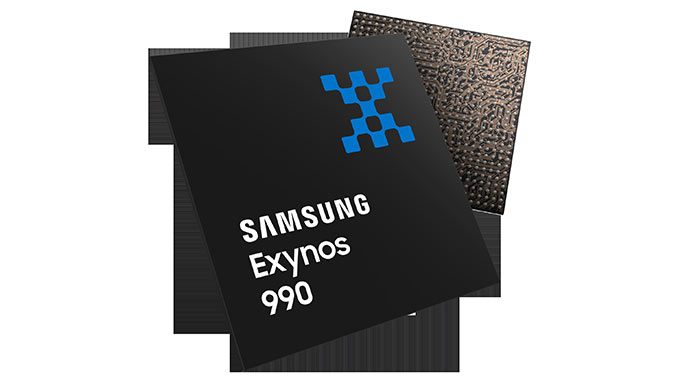 Samsung's 5G Exynos Modem 5123 is claimed to support "virtually all networks". At the high end we have support for 5G sub-6GHz and mmWave spectrums with 2G GSM/CDMA, 3G WCDMA, TD-SCDMA, HSPA and 4G LTE connectivity checkboxes ticked too. 5G connectivity at up to 5.1-gigabits per second (Gbps) in sub-6-gigahertz (GHz) and 7.35Gbps in mmWave is possible with this modem.
The Exynos 990 and Exynos Modem 5123 are expected to begin mass production by the end of this year. These 7nm EUV components may well feature in the upcoming Samsung Galaxy S11 devices early in 2020.