Intel held a media and analyst presentation at IFA yesterday, which has since been written up by its Chief Performance Strategist Ryan Shrout, ex of PCPer. It was another of Intel's 'Real World Performance' events where presenters show the latest Intel processors taking on everyday gaming and content creation tasks - but not synthetic benchmarks.
Intel's Shrout doesn't deny the usefulness of synthetic benchmarks but says that "in a world where specs around overclocking and boost technologies can be less than transparent," it is important to pull the focus towards actual games and application performance. Another dig at AMD I perceived was an assertion that "the community is questioning," competitor solutions, which linked to the recent der8auer survey results.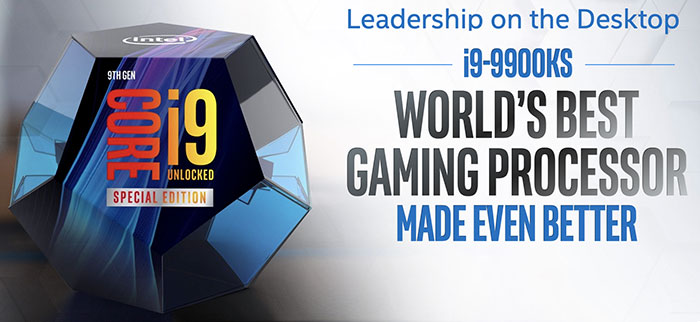 So, what do we learn about the Intel Core i9–9900KS? This is the first CPU to offer a 5.0GHz all-core turbo clock speed, "taking the gaming performance leadership we have with the 9th Gen desktop product line and making it even better," said Intel's Shrout. Some games respond better to IPC and frequency boosts than extra cores so will benchmark particularly well with the binned Core i9–9900KS CPUs.
At IFA Intel showed the press Hitman 2 running on the new 9900KS with all 16 threads running at 5.0GHz "with a light per-core load, further driving home the point that what gamers need is better overall performance, not just higher core counts," asserts Intel.
Proc

Cores

/ Threads

Base Clock

All-Core Turbo

Single
Core Turbo

IGP

DDR4

TDP

Price

i9-9900KS

8/16

4.0GHz

5.0GHz

5.0GHz

UHD 630

2666

NA

NA

i9-9900K

8/16

3.6GHz

4.7GHz

5.0GHz

UHD 630

2666

95W

$488

i9-9900KF

8/16

3.6GHz

4.7GHz

5.0GHz

-

2666

95W

$488
Intel teased the Core i9–9900KS at Computex a couple of months ago, so it isn't a surprise that it has been previewed at IFA is nearing launch. The CPU will become available from October. However, at the time of writing we still don't know its TDP or its MSRP, as you can see from the table above.
HEXUS published a thorough review of the Intel Core i9-9900K almost a year ago, upon which the 'KS' is of course based. Also you can check out our CPU review archive for deep dives on the latest Intel CPUs and AMD CPUs.
Other Intel IFA news
As well as the above info on the Core i9–9900KS, Intel shared some news on 10th Gen Ice Lake designs from OEMs, and how partners had collaborated with it to squeeze an average 18 per cent better performance compared to reference devices.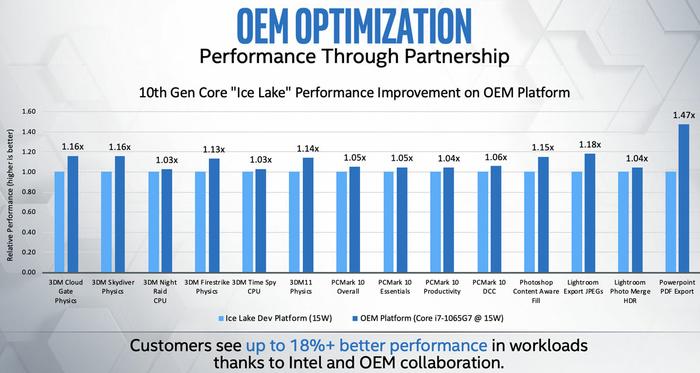 Another interesting slide showed that Intel has seized the leadership in ultra-mobile 25W gaming laptops. Its new integrated graphics best the competition at 1080p (Core i7-106G7 (25W) vs Ryzen 3600U (25W)).