Introduction
40 months. That's how long it took for Intel to follow-up its first quad-core desktop processor, the Core 2 Extreme QX6700, launched in November 2006, with a hexa-core successor, the Core i7-980X, launched in March 2010.
The many-core race never seemed to get going, but after years of labouring with dominant quad-core chips, the industry has discovered another gear and hit overdrive with a slew of fascinating designs. Progressing from four to six cores seemed to take an age, but in the past two years we've gone from eight cores to over 30 in what feels like the blink of an eye.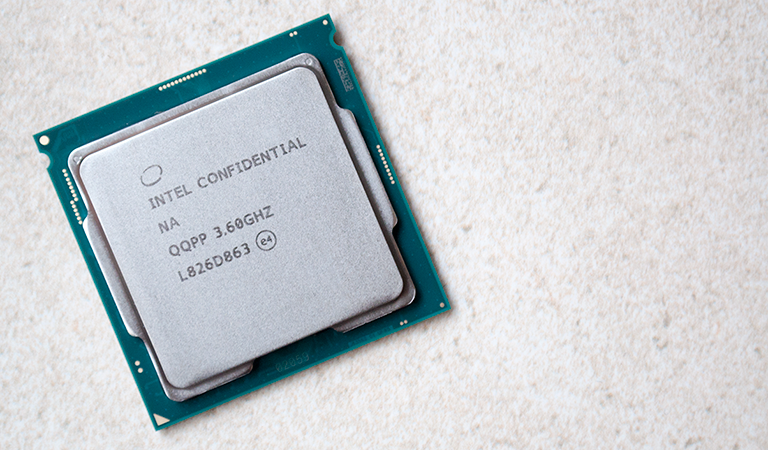 Point is, the renewed competition between Intel and AMD has well and truly ushered the era of many-core computing, and new releases are coming thick and fast. The latest entry is Intel's 9th Gen Core processor family, headlined by the Core i9-9900K, which Intel laughably refers to as the "1st mainstream 8 core, 16 thread processor."
That accolade should in fact go to the AMD Ryzen 7 1800X, launched back in March 2017, but either way, both chip giants are upping their game, and the 9th Gen Core processor family looks set to raise the performance bar on mainstream platforms.
The 9th Gen Core Processor Family
At launch, a trio of 9th Gen chips is being made available; the Core i9-9900K ($488), the Core i7-9700K ($374), and the Core i5-9600K ($262). It is interesting to note that Intel refers to these as mainstream solutions, including the Core i9-9900K, which in the UK retails for a considerable £600. The introduction of the ultra-premium HEDT Core-X processor family has allowed for such an adjustment - Core i9-9900K seems a relative bargain compared to, say, the $999 Core i9-7900X - but let's not kid ourselves, the industry's idea of mainstream pricing has shifted upward at an alarming rate. Today's mid-range isn't what it used to be, at least as far as the elite manufacturers are concerned.
Intel Core i9-9900K: where does it slot in?

Model

Cores /
Threads

Smart Cache
(MB)

Base
Clock
(GHz)

Turbo
Boost
(GHz)

Turbo
Boost
All-Core
(GHz)

PCIe
3.0
Lanes

IGP

Memory
Channels

Memory
Support

TDP
(W)

LGA
Package

Price
(1Ku)

Core i9-7980XE

18 / 36

24.75

2.6

4.4

3.4

44

-

Quad

DDR4-2666

165

2066

$1,999

Core i9-7960X

16 / 32

22

2.8

4.4

3.6

44

-

Quad

DDR4-2666

165

2066

$1,699

Core i9-7940X

14 / 28

19.25

3.1

4.4

3.8

44

-

Quad

DDR4-2666

165

2066

$1,399

Core i9-7920X

12 / 24

16.5

2.9

4.4

3.8

44

-

Quad

DDR4-2666

140

2066

$1,199

Core i9-7900X

10 / 20

13.75

3.3

4.5

4.0

44

-

Quad

DDR4-2666

140

2066

$999

Core i7-7820X

8 / 16

11

3.6

4.5

4.0

28

-

Quad

DDR4-2666

140

2066

$599

Core i9-9900K

8 / 16

16

3.6

5.0

4.7

16

UHD 630

Dual

DDR4-2666

95

1151

$488

Core i7-9700K

8 / 8

12

3.6

4.9

4.6

16

UHD 630

Dual

DDR4-2666

95

1151

$374

Core i7-7800X

6 / 12

8.25

3.5

4.0

4.0

28

-

Quad

DDR4-2400

140

2066

$389

Core i7-8700K

6 / 12

12

3.7

4.7

4.3

16

UHD 630

Dual

DDR4-2666

95

1151

$359

Core i5-9600K

6 / 6

9

3.7

4.6

4.3

16

UHD 630

Dual

DDR4-2666

95

1151

$262

Core i5-8600K

6 / 6

9

3.6

4.3

3.9

16

UHD 630

Dual

DDR4-2666

95

1151

$257
Perusing the specification table reveals the Core i9-9900K to be the most interesting new addition. This is the first time Intel has used Core i9 branding for a non-HEDT part, and the justification is the presence of eight physical cores and 16 threads. Said chip can boost to 5GHz on up to two cores, or 4.7GHz across all eight, an impressive feat for a 95W part.
Second on the 9th Gen list, the Core i7-9700K is, if memory serves, the first desktop Core i7 processor to ship without hyper-threading support. Boost clock is a hair lower at 4.9GHz (4.7GHz on all cores), and we're intrigued to see how the eight-core, eight-thread product performs compared to its direct predecessor, the six-core, 12-thread Core i7-8700K. Note that while the amount of cache on the Core i7 parts remains unchanged at 12MB, the increase in cores means that per-core cache has fallen from 2MB on the Core i7-8700K to 1.5MB on the Core i7-9700K. Rounding out the trio, the Core i5-9600K mirrors the six-core approach of last year's Core i5-8600K but offers higher boost clocks of 4.6GHz, up from 4.3GHz.
Intel 9th Gen: per-core Turbo frequencies

Base Clock

1

2

3

4

5

6

7

8

Core i9-9900K

3.6

5.0

5.0

4.8

4.8

4.7

4.7

4.7

4.7

Core i7-9700K

3.6

4.9

4.8

4.7

4.7

4.6

4.6

4.6

4.6

Core i5-9600K

3.5

4.6

4.5

4.4

4.4

4.3

4.3

-

-
The above table helps visualise the per-core frequencies of each chip, and the speed gains can for the most part be attributed to refinements on Intel's 14nm fabrication process. Prolonged delays to Intel's 10nm are such that enthusiasts hoping for revolutionary advancements are being made to wait. 9th Gen Core, which we refer to as Coffee Lake Refresh, borrows heavily from 8th Gen Coffee Lake, which in turn is based on 7th Gen Kaby Lake, which just so happens to be an optimisation of 6th Gen Skylake. If you're being pedantic, you could argue that 9th Gen Core is, in effect, Skylake optimised to the nth degree.
Soldered, Yet Still Prone To Meltdown
As you've no doubt heard, Intel is using the 9th Gen refresh as an opportunity to bring back solder as the interface material between the heat spreader and processor die. Proud of the U-turn, Intel refers to the design as STIM (Solder Thermal Interface Material), and the improved heat dissipation is most likely to benefit overclockers. The Core i9-9900K, and indeed the Core i7-8700K before it, don't run particularly hot at stock speeds and are easily tamed by today's high-end coolers. Overclocking the 9th Gen chip is another story entirely, and one that we'll cover a little later in the review.
Coffee Lake Refresh will ultimately be viewed as an evolutionary upgrade - the graphics component hasn't changed at all, with the three chips employing the same UHD 630 design - and the decision to remain on the 14nm process means that full hardware protection for Meltdown and Spectre vulnerabilities aren't included. Intel states that two of the known vulnerabilities have been fixed at a hardware level, but a remaining four will continue to be patched via software and firmware updates.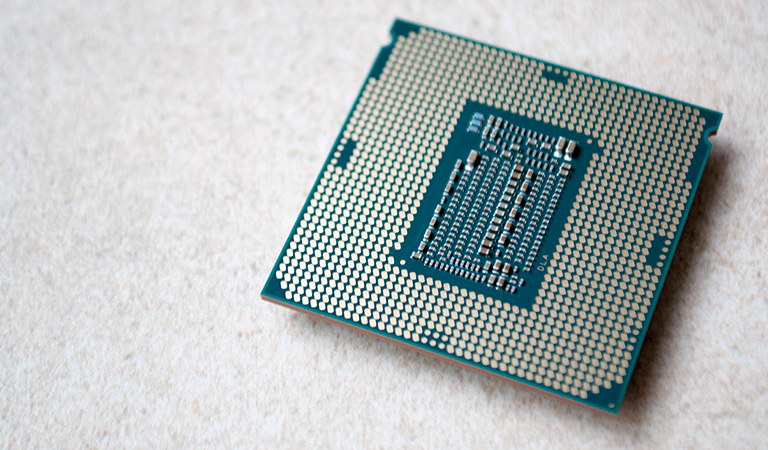 In a perfect world we'd want all 9th Gen parts to offer full hardware protection from the get-go, but the changes required at the silicon level most likely won't be implemented until 10nm comes of age. Hardly ideal, yet keeping to a familiar design does have a continuity benefit. 9th Gen Core is delivered in the same LGA1151 package as 8th Gen Core, ensuring the new chips are compatible with existing Z370 motherboards, though a BIOS update may be required. Handy for those who have already invested in a motherboard, but Intel has never been shy when it comes to releasing new chipsets, and 9th Gen Core has an optional new companion in the form of Z390.
Chipsets and Competitors
Intel's motherboard partners have clearly had plenty of time to prepare for Z390. The likes of Asus, Gigabyte and MSI have shown full support with a complete catalogue of models, and a quick browse around online retailers reveals somewhere in the region of 50 motherboards to choose from on day one.
Intel Chipsets: Z390 vs. Z370 vs. X299

Z390

Z370

X299

Launch Date

Q4 2018

Q4 2017

Q2 2017

Socket

LGA1151

LGA1151

LGA2066

Overclocking Support

Yes

Yes

Yes

Memory Channels

2

2

4

Displays Supported

3

3

-

CPU PCIe Express

16

16

up to 44

Maximum PCIe Express

24

24

68

Sata 6Gbps

6

6

8

Total USB Ports

14

14

14

Maximum USB 3.1 Gen 2 Ports

6

0

0

Intel Wireless-AC Support (CNVi)

Yes

No

No

Intel ME Firmware Version

12

11

11
Don't, however, feel the need to rush out and upgrade from Z370. Like the 9th Gen processors themselves, the recommended Z390 chipset is an evolutionary upgrade carrying two primary hardware improvements. The first is native support for up to half-a-dozen USB 3.1 Gen 2 ports and the second is streamlined support for integrated Intel WiFi through CNVi. Useful upgrades for sure, yet many Z370 boards already offer USB 3.1 Gen 2 and WiFi support via third-party add-ons.
Going back to 9th Gen Core, there are obvious questions surrounding the positioning of the chips, as well as a blurring of the lines between HEDT and mainstream parts. The $488 Core i9-9900K in for review today isn't the only eight-core, 16-thread part in Intel's current desktop portfolio, but its arrival at such lofty frequencies renders the $599 Core i7-7820X almost pointless. Unless you absolutely need quad-channel memory and masses of PCIe Express, we suspect the 10-core, 20-thread Core i9-7900X, priced at $999, will also struggle to prove its worth over the mainstream Core i9.
Intel Core i9-9900K vs. AMD Ryzen 2700X

Model

Cores / Threads

TDP

L3 Cache

Base Clock

Turbo Clock

Process

PCIe

IGP

DDR4 Support

Package

UK Retail

Core i9-9900K

8 / 16

95W

16MB

3.6GHz

5.0GHz

14nm

16

UHD 630

Dual 2666

1151

Ryzen 7 2700X

8 / 16

105W

16MB

3.7GHz

4.3GHz

12nm

24

-

Dual 2933

AM4
Then there's the competitor from across the way. It won't have escaped your attention that both Intel and AMD now offer an eight-core, 16-thread solution as part of their mainstream product lines. The difference, and it's a big one, is that Intel's Core i9-9900K is retailing for £600 here in the UK, while the rival AMD Ryzen 7 2700X can be purchased for half the price.
Recent history suggests that the Intel chip will hold a healthy lead in terms of IPC (instructions per clock) throughput, but the performance gap is likely to diminish when all threads are put to work. High pricing for that extra last ounce of speed tends not to deter the enthusiasts, but a 100 per cent premium is nonetheless significant. Let's fire up the benchmarks and see what's what.