Today we edge past the Summer Solstice and the nights begin to darken again, but we are already beginning to see the glow from the launch of the 3rd gen AMD Ryzen processors on 7/7. We have already seen some official performance previews from the Computex and E3 events, plus the Ryzen 9 3950X overclocking demo. Now various leaks are starting to spring from the usual suspects such as Tum Apisak and VideoCardz.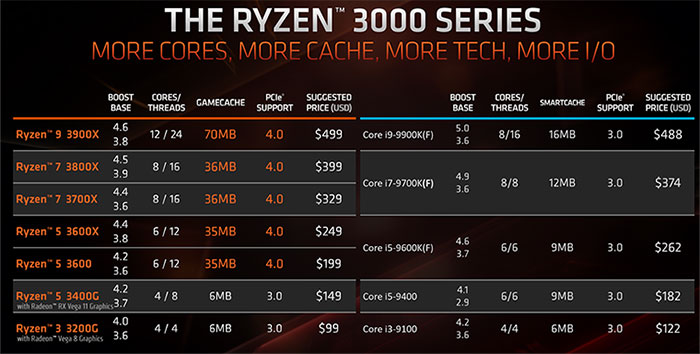 Official specs table from AMD
AMD Ryzen 7 3800X
A purported AMD Ryzen 7 3800X has been unearthed in the Geekbench online results browser by Tum Apisak, and shared on Twitter. As you can see from the screenshot, the $399 MSRP 8C/16T 'AMD Myrtle' performs quite similarly to an 8C/16T Intel Core i9-9900K processor based system running similarly specced DDR4 memory. It was hard to find similar memory speed comparisons as the AMD test system appears to have 2133MHz memory, when it should support higher rates.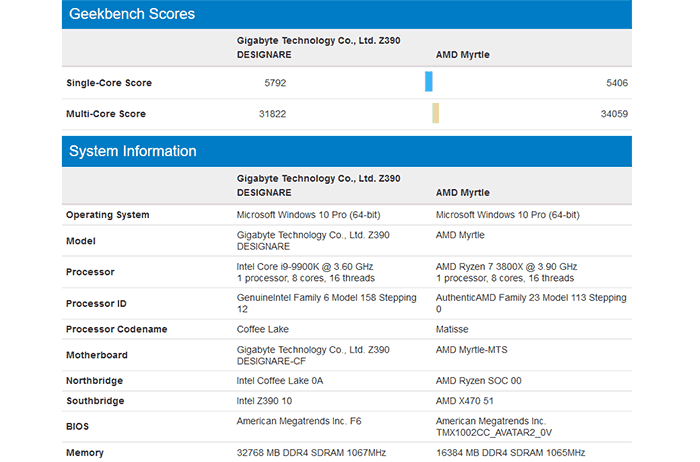 Tech Site Guru3D shared some more Geekbench comparisons, with one showing that the 9900K can do much better with DDR4 2666MHz memory, for example. Geekbench results aren't the greatest representations for performance in the real world but are interesting to some, nonetheless. Also please take these benchmarks (and the ones below) with a pinch of salt.
AMD Ryzen 5 3600
At half the price of the above featured processor, many constrained budget enthusiasts and gamers will be interested in the 6C/12T AMD Ryzen 5 3600 processor's charms. VideoCardz has shared various benchmark screenshots featuring the Ryzen 5 3600 amongst its Twitter posts. At the link you can see a product shot, some screen-grabs from CPU-Z, and some Cinebench results.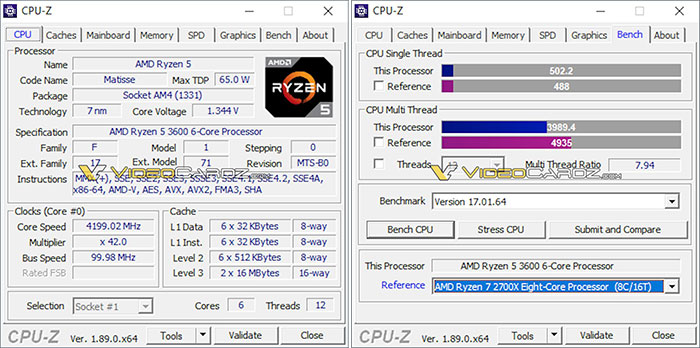 In CPU-Z you can see the user compared the new Zen 2 core powered AMD Ryzen 5 3600 against an 8C/16T predecessor, in the shape of the Zen+ core packing Ryzen 7 2700X. The new processor has a base/boost clock of 3.6/4.2GHz, compared to 3.7/4.3GHz of the previous gen sample. Despite the speed disadvantage, in the single core CPU-Z test the 3rd gen Ryzen beats the second gen part by about 3 per cent. Of course it doesn't fare so well in the multi-core test.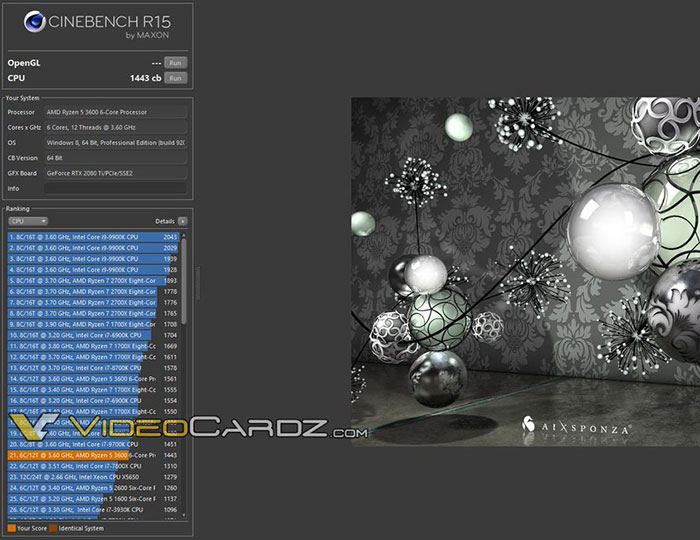 Cinebench R15 tests appear to show the AMD Ryzen 5 3600 performs (1443) similarly to an Intel Core i7-9700K (1451). Whoever did the Cinebench testing neglected to do any single-thread runs.
It is only just over a fortnight until the 3rd gen AMD Ryzen processors launch.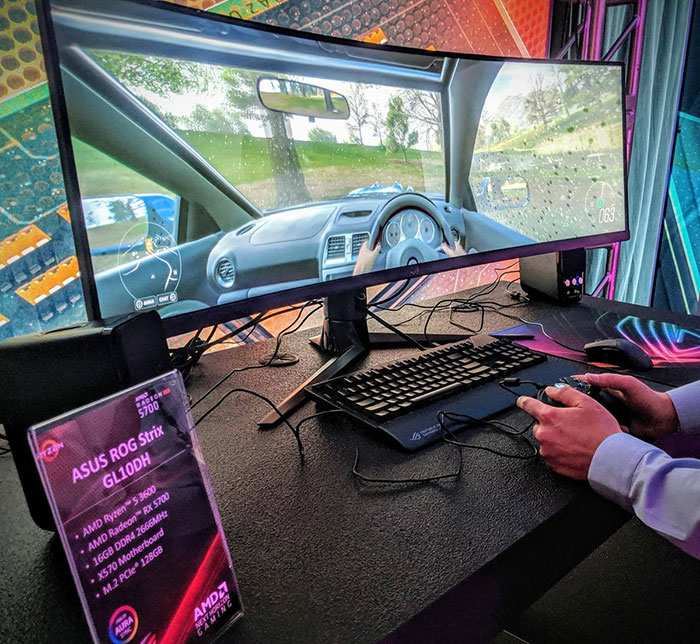 AMD was demoing Ryzen 5 3600 gaming PC systems at E3.