Last week HEXUS reported upon the range of AMD 50th Anniversary products being readied for this commemorative event. The event is already being widely promoted by AMD on social media, here for example, but no official products like the ones we saw prematurely listed, are official as yet.

At the time of writing we know of four AMD 50th Anniversary products; a Ryzen processor, a Radeon RX 590 graphics card, a Radeon VII graphics card, and an X470 chipset motherboard. A few hours ago VideoCardz shared some of the first images, and interesting further details about the processor.
VideoCardz's scoop shows a product listing for the AMD Ryzen 7 2700X 50th Anniversary Edition in a screenshot from a US-based IT solutions provider and online retailer called 'Connection'. I had a quick nose around that site but the listing appears to have been removed. Thankfully product details and images were captured by the source.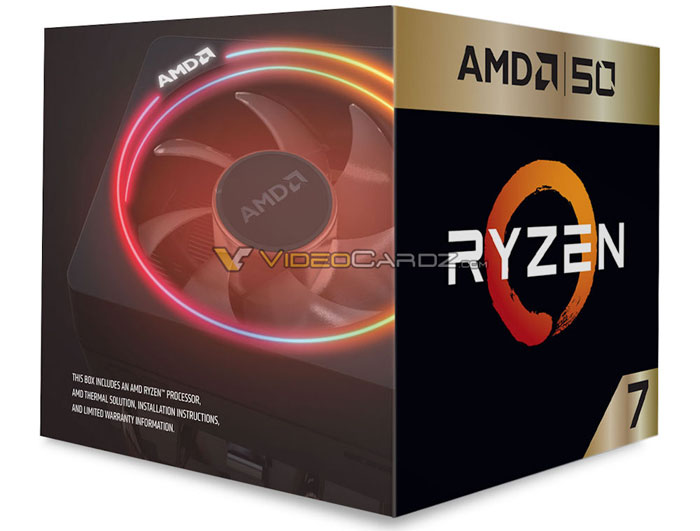 Above you can see the black and gold packaging of the AMD 50th Anniversary Ryzen 7 2700X processor. Normal packaging uses black and orange colours. 'AMD 50' is emblazoned on the packaging on a top gold banner area to make it even more clear that this is a commemorative product. Inside the box there is a bundled AMD Wraith Prism cooler, as we noted in the previous listing that was uploaded without images.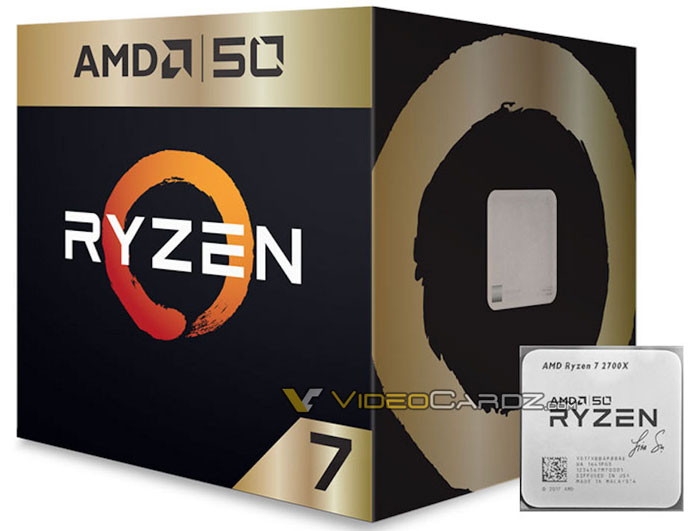 In the above photo you can see some detail from the processor heatspreader. As well as the product name, there is a special AMD 50 logo and, under the large Ryzen logo, AMD CEO Lisa Su's rather compact signature. Considering performance and specs, this anniversary processor is thought to be exactly the same as the existing AMD Ryzen 7 2700X.
As it stands the 50th Anniversary Ryzen 7 2700X processor could find favour among AMD fans, and it might be the last 12nm CPU from AMD before the Zen 2 launch, expected to occur at Computex in a few weeks time. To own one there will be just a modest price premium.