AMD's 50th Anniversary celebrations are just a fortnight away. It was founded on 1st May 1969, in Sunnyvale, California. As part of the computer processor developer's festivities we have found out that there will be commemorative, special edition hardware in multiple segments. For those interested in PC CPU upgrades AMD's 50th Anniversary Ryzen 7 2700X processor might appeal.
AMD 50th Anniversary Ryzen 7 2700X
The listing at ShopBLT doesn't provide much in the way of information about the upcoming AMD 50th Anniversary Ryzen 7 2700X other than the basics of product name, description, manufacturing part number, and price.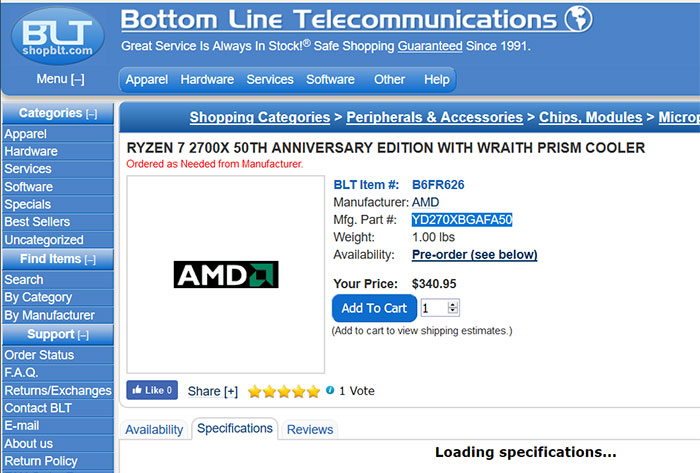 As you can see in the screenshot above, the 50th Anniversary Ryzen 7 2700X comes with the Wraith Prism Cooler, just like the standard edition you can buy today. Its part number is YD270XBGAFA50, very much like the boxed processor you can buy today (YD270XBGAFBOX) but with a 50 in place of the BOX string. With this in mind it would be rational to expect the 50th Anniversary to merely differentiate with its packaging, and perhaps some kind of engraving on the IHS and/or cooler.
The modest changes to the 50th Anniversary product are reflected in the pricing. This initial pricing isn't much higher than standard edition processors in the US. As a reminder, HEXUS reviewed the AMD Ryzen 7 2700X processor almost a year ago, alongside the Ryzen 5 2600X. The pair won HEXUS Recommended awards and the former comes with 8C/16T, a 16MB L3 cache, base/turbo clocks of 3.7GHz / 4.3GHz, and has a TDP of 105W.
AMD 50th Anniversary Radeon RX 590
Portuguese PC hardware retailer PCDiga has listed an AMD 50th Anniversary Radeon RX 590. This Sapphire branded product is based on the familiar Nitro+ design. The listing says that it boasts a factory set 1560MHz overclock. That is the same as the sky blue SE model, and actually the Portuguese description says this is a blue model, when it clearly isn't.
Again, it looks like this anniversary product is little more than a repackaged component with cosmetic changes. The new colour, which looks yellowy in the photos might be described by the marketing department as 'gold' to tie in with the 50th anniversary.
PCDiga's price of €299.90 for the Sapphire 50th Anniversary Radeon RX 590 is €25 more than the price of blue version (on the same site).
UPDATE:
An AMD 50th Anniversary motherboard from Gigayte Aorus has joined in the celebrations.