MediaTek has launched a new flagship processor dubbed the Helio P90. The new mobile processor combines an octa-core cluster of Arm Cortex-A75 and A55 CPUs, with large L3 cache, a PowerVR GM 9446 GPU, a LPDDR4X memory controller, and other SoC essentials. However, MediaTek seeks to differentiate the new Helio P90 by highlighting its 'APU 2.0', an AI processor claimed to be "50 per cent more powerful than high-end competitor devices".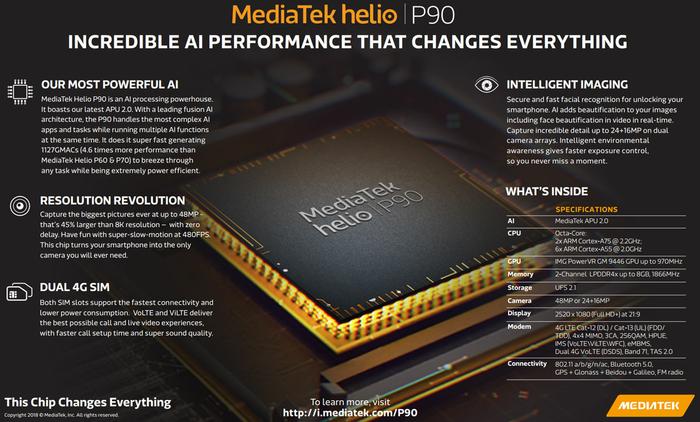 Click to zoom image
In its press release, MediaTek says that the APU 2.0 can generate 1127GMACs (giga multiply-accumulates per second), which is 4.6X the performance over the P70 and P60. Many smartphone users aren't that convinced about the new wave of on onboard AI processing as, in MediaTek's and its rivals blurb it seems to be limited mainly to facilitating camera, imaging, photo, video frills - as well as helping with security - face-unlock, for example.
On more specific imaging topics, the AI can do fast facial recognition, enhanced low light noise reduction, image abstraction, portrait modes, beautification, AR functionality, and more. The MediaTek Helio P90 can also support the latest 48MP camera sensors, capture images at this resolution at up to 30FPS with zero delay (ZSD), or enable super-fast frame-rate 480FPS in 16MP resolution. MediaTek says that dual camera arrays of up to 24+16MP "will benefit from fluid 30fps bokeh live-previews that are 6X faster and 2.25X higher resolution than competitor alternatives". The Helio P90 includes an upgraded triple ISP for super fast processing too.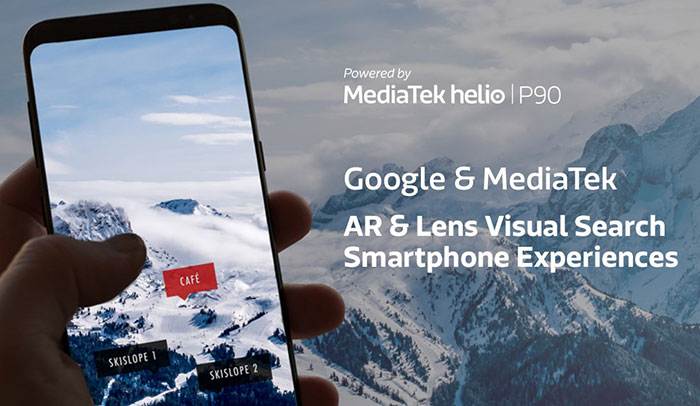 On more general processing tasks the Helio P90 can wield its pair of 2.2GHz Arm Cortex-A75 CPUs with six 2.0GHz Cortex-A55 CPUs. MediaTek's CorePilot control supports ACAO (all cores all open) with thermal monitoring and energy awareness to get the most out of processor resources. In graphically demanding tasks the 970MHz PowerVR GM 9446 GPU will lend a shoulder, and the SoC is supported by LPDDR4X memory speeds to 1866MHz.
With 5G the hot topic going into 2019, MediaTek has delayed its adoption of this connectivity trend for now. The 4G LTE WorldMode modem in the SoC introduces 4x4 MIMO, 3CA and 256QAM and supports dual-SIM 4G LTE, and more but there is not a whiff of 5G here. MediaTek will likely follow up with a 5G capable update sometime next year.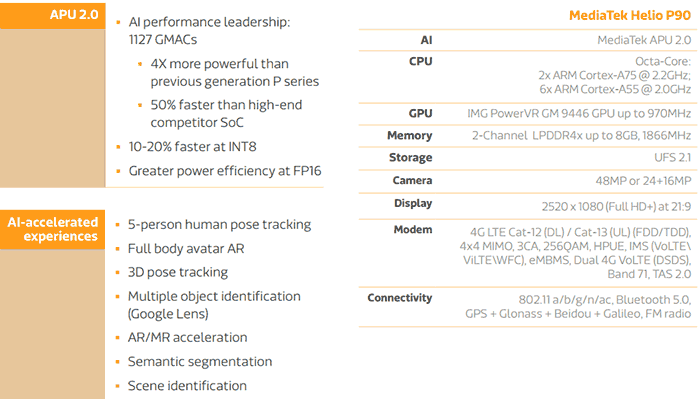 Helio P90 processors are currently sampling with device makers and we can expect the first devices to be teased at MWC 2019 and released shortly after.