Apple talked up the processing power in the new 2018 iPad Pro models at the launch event on Tuesday in New York. Powered by the octa-core 7nm Apple A12X Bionic chip with 64-bit architecture, Neural Engine, and embedded M12 coprocessor it was claimed that the newest redesigned iPad Pro models were "faster than 92 per cent of portable PCs," and delivered graphics "on a par with the Xbox One S".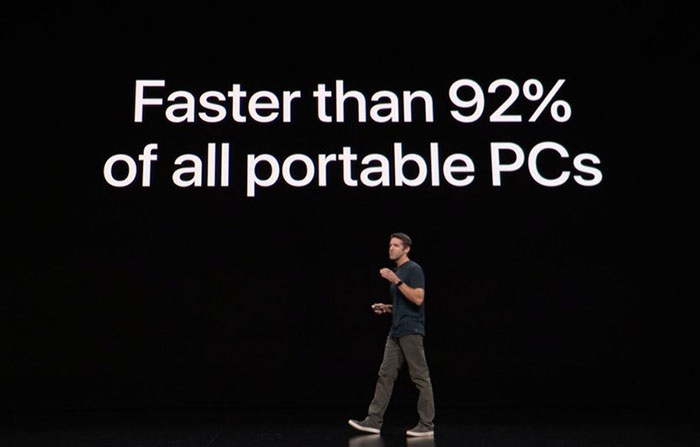 Ahead of the general availability of the redesigned and beefed up iPad Pro models (Tuesday, 6th Nov) some third party benchmark runs have been spotted on Geekbench. 9to5 Mac spotted the impressive scores and commented that they rival Apple's newest laptops packing Intel's latest Core i7 processors.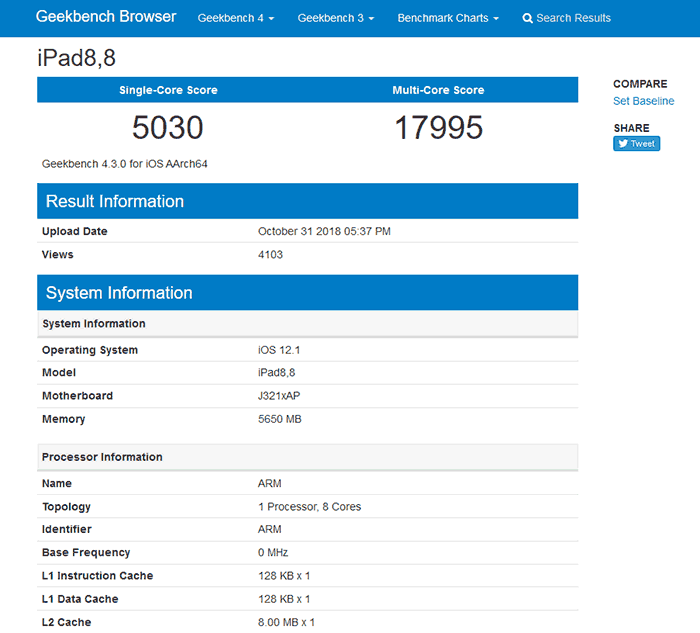 The Geekbench 4.3.0 score of the iPad8,8 - claimed to be a new iPad Pro 2018 model - can be seen in the screenshot above. The iOS 12.1 device with 6GB of RAM delivers a headlining single core score of 5030, and a multi-core score of 17995. Compare this to a recent benchmark of a Razer Blade Stealth with 4C/8T Intel Core i7-8550U at 4217 and 12233 respectively, or an Apple MacBook Pro with 6C/12T Intel Core i9-8950HK at 5604 and 23987 respectively. My aging PC desktop sports a 4C/8T Intel Core i7-4790T and this processor (in a recent iMac test online) scores 4437 and 13510 respectively.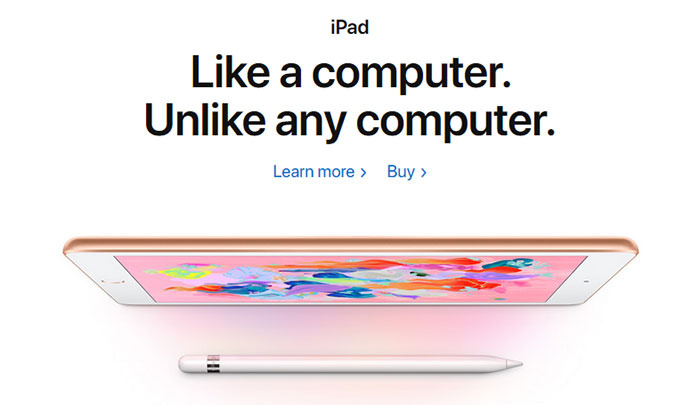 Signing off my Apple 'There's more in the making' launch event news back in mid October, I noted that well known analyst Ming-Chi Kuo said that Macs will adopt Apple's A-series processors in some form starting from 2020 or 2021. Bloomberg sources indicated a similar strategic move earlier this year. With the Apple A12X already looking like a good competitor for mobile Intel Core i5 and i7 chips, the signs are good for Apple's smooth transition to further vertical integration in Mac computers.