On Friday, Huawei held its keynote address at IFA 2018, Berlin. The Chinese technology giant announced a range of interesting smartphones, smart home devices, and a new flagship SoC – the Kirin 980. The headline claim behind the new Kirin 980 is that it is the world's first 7nm mobile SoC, it is among the first fruit of TSMC's 7nm process. With 6.9 billion transistors, 1.6x more than the Kirin 970, Huawei claims that the new processor combines best-in-class performance, efficiency, connectivity features, and a Dual NPU for AI processing power.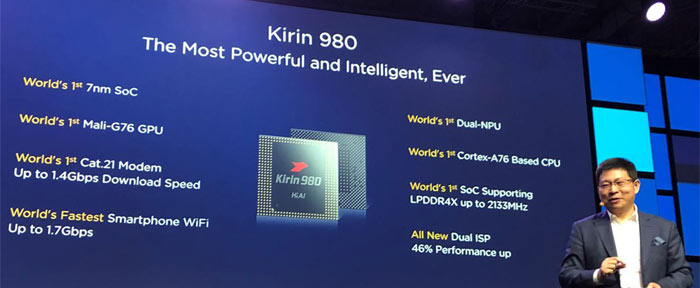 In terms of the performance increase you should expect compared to the previous gen (10nm), Huawei says that the Kirin 980 delivers 20 per cent improved SoC performance and 40 per cent improved SoC power efficiency. The CPU cores are; two super-big cores based on Cortex-A76, two big cores based on Cortex-A76, and four little cores Cortex-A55 and utilise an intelligent Flex-scheduling mechanism – a significant refinement over big.LITTLE, says Huawei.
Elsewhere in the SoC are:
Mali-G76 GPU for 46 per cent greater graphics processing power at 178 per cent improved power efficiency over the previous generation. And it features clock-boosting AI tech.
Dual NPU for boosted on-device AI, approx 120 per cent faster than the NPU on the Kirin 970, and capable of recognising up to 4,500 images per minute, for example.
4th gen ISP with 46 per cent increase in data throughput compared to its predecessor. It features better support for multi-camera configurations, as well as an all-new HDR colour reproduction technology, motion tracking, plus a multi-pass noise reduction solution.
A modem supporting LTE Cat.21 with a peak download speed of 1.4Gbps with carrier aggregation, even across frequency bands.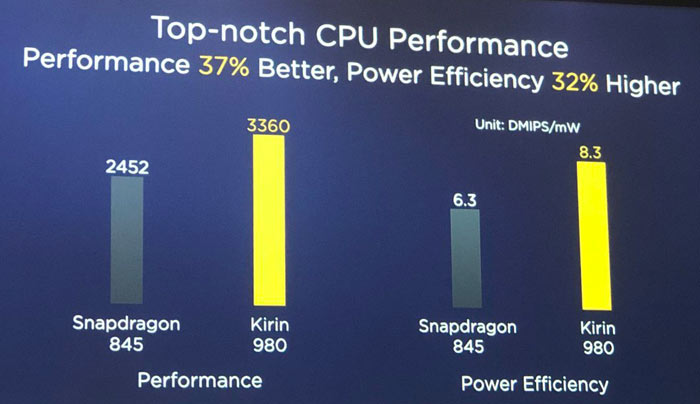 If you are interested in some comparative benchmarks featuring the Kirin 980, during its keynote Huawei showed that its new processor achieved a Geekbench 4 single-core score of 3360, compared to 2452 for the Qualcomm Snapdragon 845, but still slower than the Apple A11 which achieves 4207.
Devices powered by the Kirin 980
Huawei emailed HEXUS to announce that it was preparing to release several new devices featuring the new 7nm flagship SoC. The first such devices will be the Mate 20 series of phones, launching 16th October, 2018. Furthermore, the Honor Magic 2 will come packing the Kirin 980.