Acer Slovakia appears to have prematurely published product pages for a new gaming PC that features an AMD Ryzen 5 2500X processor. The blooper seems to indicate that AMD is very close to officially revealing its lower-tier quad-core Ryzen 3 2300X and Ryzen 5 2500X processors.
If you head on over to the Acer Slovakia webstore you can still see the listing for the Acer Nitro N50-100, at the time of writing. Among the key tech specs of this gaming MicroTower are; 8GB (1x8) DDR4 2,666MHz, SSD 256GB + HDD 1TB (7,200rpm), AMD Radeon RX 580 4GB DDR5, DVD-RW / Wi-Fi / BT 4.2 / USB 2.0 / USB 3.1 / LAN, and Windows 10 Home 64-bit. It also comes packing the unannounced AMD Ryzen 5 2500X (3.60GHz).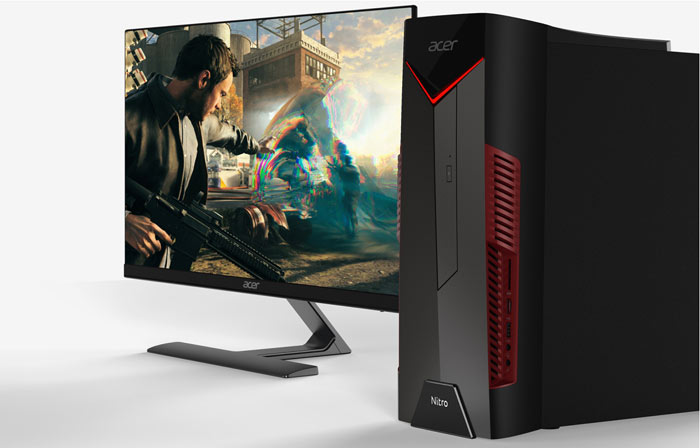 Acer Nitro N50-100
The AMD Ryzen 5 2500X is expected to come with 4C/8T configuration, running at 3.60GHz base and 4.00GHz boost, with XFR 2.0 boosting it further - depending upon your cooling solution's capabilities. Built using the AMD Zen+ microarchitecture and manufactured utilizing GlobalFoundries' 12nm process, the 65W 2500X is rumoured to sport 18MB of combined L2 and L3 cache says Tom's Hardware.
Acer offers multiple configurations of Acer Nitro N50 MicroTower for sale. As well as the linked Ryzen 5 2500X CPU model, which is listed at €943.50, you can get it with the same processor and GPU but without the 256GB SSD pre-installed for €868.62 including sales tax. Acer Slovakia also lists Acer Nitro N50-600 gaming PCs which leverage Intel Core i7-8700 or Core i5-8400 processors and the Nvidia GeForce GTX 1060 or 1050 Ti respectively, with varying RAM/storage configurations.
We should see the official launch of these new Ryzen processors alongside the B450 chipset by the end of the month.