A Chinese site claims to have information about three unlocked Intel Core 9th gen series processors. The processors are the Intel Core i9-9900K, Core i7-9700K, and Core i5-9600K. It is worth noting that the i5-9600K was already accidentally / prematurely listed by Intel in official microcode update guidance material back in early July.
The Coolaler site, via VideoCardz, shared the table below, tabulating the three processors for easy comparison.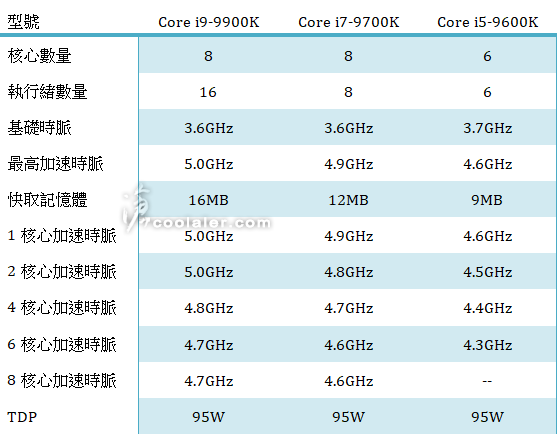 While the table row descriptors are in Chinese, it is easy to understand what they refer to. They list: core, threads, base, boost, and caches - in that order. The next rows show the max boost speeds for various numbers of cores enabled. For example, the Core i7-9700K can attain a single core boost of 4.9GHz and all-core boost of 4.6GHz. All three chips in the table are said to have a TDP of just 95W.
The top end Intel Core i9-9900K will be Intel's ammo to battle against AMD's popular and powerful 8C/16T Ryzen processors such as the ZEN+ Ryzen 2700X. One wonders if AMD has a counter in reserve - a powerful 2800X part, for example. It is interesting to see the top Core i7 transition from a 6C/12T part (Core i7-8700K) to 8C/8T with the new Core i7-9700K. Lastly, on paper, the new Core i5-9600K looks only a baby step up from the similar 6C/6T Core i5-8600K.
Intel is expected to launch these chips ahead of Q4 2018. The processors are expected to be compatible with (BIOS updated) existing motherboards based on the 300-series chipset.