Intel has seemingly confirmed a number of 9th Generation Core processors. Several such processors were listed in the most recent microcode revision guidance document for the Spectre vulnerability. In the PDF document, dated 3rd July, the 9th gen processors are listed alongside Coffee Lake S (6+2) and Coffee Lake S (4+2) 8th gen processors. You can see the products highlighted in the screen shot below, courtesy of VideoCardz as the Intel microcode document has since been edited and re-uploaded.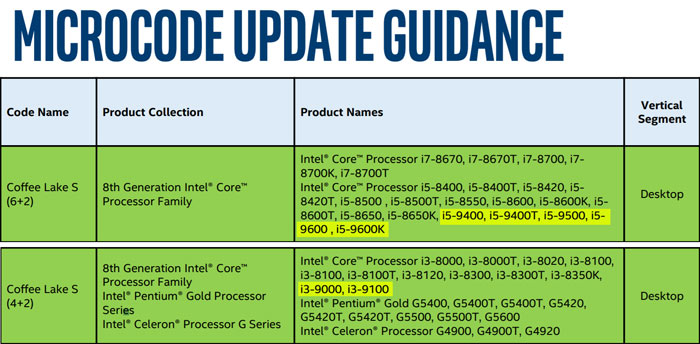 In a bullet point list form, the hitherto unknown processors listed are as follows:
Core i3-9000
Core i3-9100
Core i5-9400
Core i5-9400T
Core i5-9500
Core i5-9600
Core i5-9600K
The lack of any Core-i7-9XXX chips in the document could indicate that they are likely to come in 8 core configurations. The document editor thus didn't accidentally add them to the microcode update PDF that has since been edited.
8th to 9th gen Intel Core transition provides 100-200MHz boost
Another premature publication error from Intel has been removed in the last few hours. The document was called the '8th Gen Core Family Spec Update' and the link is now dead. Luckily, again, VideoCardz has captured the evidence. This document shows more details of the above 9th gen Core processors. Details such as name, cache size, physical core count, graphics cores, frequencies and TDPs are all listed for the seven processors as bullet pointed above.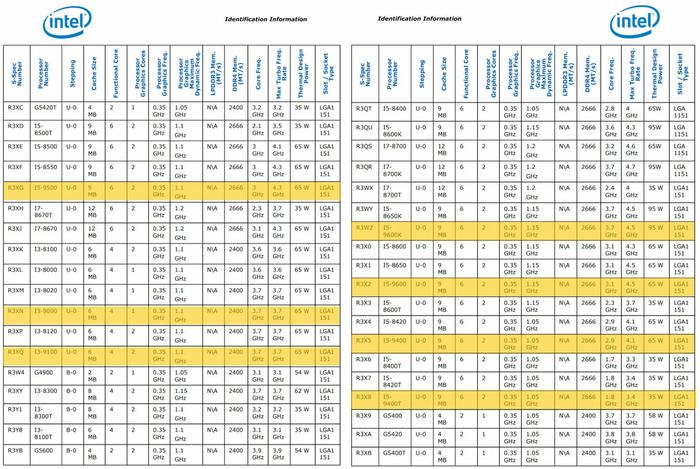 click to zoom in
Picking through the data tables you can see that the 9th gen processors benefit from a frequency boost up to 200MHz in their Max Turbo state, while preserving 8th Gen successor's TDP. Again, there is a total lack of detail about 9th gen Intel Core i7 processors within the documents as seen.