Introduction
2017 is proving to be a landmark year for desktop PC CPUs. There has been more innovation this year than the preceding five, driven by AMD coming back into the enthusiast market with a range of price-to-performance champions based on the all-new Zen architecture. Known to you as Ryzen, these chips have, for the last six months, offered more cores, threads and overall performance for your buck than the incumbent Intel Core series.
Yet it is foolish to think Intel would take the AMD arrivals lying down. It has hurried along the ultra-enthusiast Core X series to stave off the threat from AMD's Ryzen Threadripper, while the traditional base has been augmented by 8th Generation Core processors built on what is known as the Coffee Lake architecture.
Chips based on Coffee Lake take a leaf out of the AMD playbook by upping the cores and threads whilst keeping pricing in check. Let's dive a little deeper to see how it all plays out.
Mainstream Intel Core Series

Model

Cores /
Threads

Smart Cache
(MB)

Base
Clock
(GHz)

Turbo
Boost
2.0
(GHz)

Turbo
Boost
2.0
All-Core
(GHz)

PCIe
3.0
Lanes

IGP

IGPSpeed

Memory
Channels

Memory
Support

TDP
(W)

LGA
Package

MSP

Coffee Lake 8th Gen processors

Core i7-8700K

6 / 12

12

3.7

4.7

4.3

16

UHD 630

1,200

Dual

DDR4-2666

95

1151

$359

Core i7-8700

6 / 12

12

3.2

4.6

4.3

16

UHD 630

1,200

Dual

DDR4-2666

65

1151

$303

Core i5-8600K

6 / 6

9

3.6

4.3

3.9

16

UHD 630

1,150

Dual

DDR4-2666

95

1151

$257

Core i5-8400

6 / 6

9

2.8

4.0

3.8

16

UHD 630

1,050

Dual

DDR4-2666

65

1151

$182

Core i3-8350K

4 / 4

6

4.0

-

-

16

UHD 630

1,150

Dual

DDR4-2400

91

1151

$168

Core i3-8100

4 / 4

6

3.6

-

-

16

UHD 630

1,100

Dual

DDR4-2400

65

1151

$117

Select Kaby Lake 7th Gen processors

Core i7-7700K

4 / 8

8

4.2

4.5

4.4

16

HD 630

1,150

Dual

DDR4-2400

91

1151

$339

Core i5-7600K

4 / 4

6

3.8

4.2

4.0

16

HD 630

1,150

Dual

DDR4-2400

65

1151

$243

Core i3-7350K

2 / 4

4

4.2

-

-

16

HD 630

1,150

Dual

DDR4-2400

60

1151

$179
Six-core mainstream flagship
Intel has introduced six desktop chips for the 8th Generation Core line-up. They follow similar nomenclature as has gone before, meaning we have two each from the Core i7, Core i5 and Core i3 families, with the higher number indicating better performance.
The most telling aspect is the move from four to six cores for the mainstream performance Core i7 and Core i5 stack. Intel has stuck with 4C/8T (Core i7) and 4C/4T (Core i5) since the Sandy Bridge days, leaving more cores and threads the sole preserve of what we call the high-end desktop platform.
Intel, then, is increasing the per-socket compute of its mainstream platform that's been based on an LGA 115x form factor for the last seven years. Why? The answer is simple: the emergence of AMD Ryzen.
A high-level summation indicates there's 50 per cent more processing power on tap for Core i7 and Core i5 when compared to the previous-generation Kaby Lake architecture, while the Core i3 chips move from 2C/4T to 4C/4T, thus increasing baseline Core performance across the board. These new chips retain a monolithic die, and therefore the extra cores haven't just been 'glued' on as a knee-jerk reaction to AMD.
The asking fee for greater performance is a retail price that's less than 10 per cent more than the release cost of model-equivalent Kaby Lake chips - $359 and $339 for the Core i7-8700K and Core i7-7700K, respectively. That may not sound like much, but given the sharper pricing of AMD's similarly designed Ryzen 7/5/3 chips, the value argument is still likely to favour the Austin outfit. We'll find out how it truly shakes out in our bang4buck graphs later on in the review.
Coffee is a more-core version of Kaby
There is no manifest change in the underlying architecture and instruction-set between generations, so everything present in Coffee Lake is also present in Kaby Lake. Important to know, though Intel offers this new platform a touch more oomph by officially supporting DDR4-2666 memory off the bat, providing 11 per cent more peak bandwidth. That said, the Core i3 is limited to the previous-generation DDR4-2400, but you should be able to run higher on a decent motherboard.
Notice the change in name for the integrated graphics, from HD 630 to UHD 630? This isn't a new graphics engine, however, as it uses the same GT2 IGP equipped with 24 execution units (or 23 in the case of Core i5-8400 and below). In fact, the only real difference between the two is a higher peak speed - 1,200MHz vs. 1,150MHz on HD 630 - and, now, official support for OpenGL 4.5. Really, you can consider the graphics to be the same as on Kaby Lake.
Intel does say that it has refined the manufacturing process over time to make it more efficient at achieving higher speeds with less current. We can infer that this is true - Intel calls this process '14nm++' - because the six-core Core i7-8700K offers all-core frequencies that are similar to Core i7-7700K without increasing the total thermal budget by a significant margin. Speaking to Intel engineers, they say that the 8th Gen parts run closer to the quoted TDPs than their 7th Gen brethren.
Peak frequencies are broadly similar, too, as the range-topping chip is able to hit 4.7GHz for a single core. Unlike the even-more-core HEDT chips, 8th Gen Core does not support Turbo Boost 3.0 Max - the technology that evaluates the best performing cores and runs them even higher. We guess you don't need it when nearing 5GHz at stock.
With all that being said, 8th Gen chips, packaged on to a familiar LGA 1151 form factor, are an excellent drop-in upgrade for widely-available Z270 boards, right? Wrong!
Z370 chipset - the same but different
To understand Intel's thinking, we must first examine the only supporting chipset at present: Z370. You'd think that with a new generational name Intel would add meaningful features to the release. The answer, sadly, is that Z370 has the same specification as its predecessor, so no baked-in USB 3.1 Gen 2, no more additional PCIe lanes, no more expansion, and so on. Even the physical socket, LGA 1151, is the same, but, and here comes the kicker, Intel is ensuring that desktop 8th Gen chips only work with Z370 and other, upcoming 300-series chipsets.
Why? Intel doesn't like to popularise the fact, but it has changed the pin layout for the 8th Gen chips. There are now more ground and power pads on the newer CPUs, meaning that interoperability with older chips isn't merely a case of updating firmware - one needs a compatible socket on which to run them.
The official high-level answer, however, is that the enhanced voltage regulation required to drive a six-core processor and to run memory at DDR4-2666 requires a higher level of certification and support than Z270 provides. We believe this explanation to be balderdash, frankly, because a decent Z270 board can run a Core i7-7700K at 4.5GHz at 1.25V without issue, whilst also operating memory well north of 3,000MHz.
Put simply, it should be impossible to mix and match generational processors and chipsets. Pragmatically, whack a Core i7-8700K into a Z270 board and it will fit but won't work, and we'd be surprised if a motherboard manufacturer incurred Intel's wrath by adapting their boards accordingly. It works the other way, as well, so anyone with a Core i7-6700K or Core i7-7700K, or any 6th and 7th Gen chips for that matter, cannot use their processors in a Z370 board; the upgrade path is well and truly closed.
Intel wants to encourage potential purchasers to go for a clean PC break with the 8th Gen chips; motherboard guys want to sell more boards, so from a business point of view the move makes implicit sense.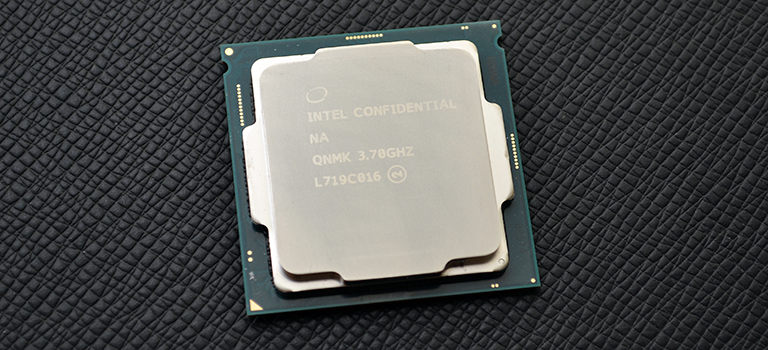 The chip itself is the epitome of familiarity. This Core i7-8700K, supplied by Intel and known in the business as an engineering sample, looks like any Skylake or Kaby Lake chip before it. Intel continues a recent trend of not divulging die sizes, but you can bet your bottom dollar that the die is between 30-50 per cent bigger than the 6700K and 7700K chips that came before this one.
We can distill the 8th Gen Core processors pretty easily. They offer more cores or threads than their direct predecessors, albeit at a small price premium. Is this more-core strategy the right move in the face of renewed, stiff competition from a cohort of AMD Ryzen CPUs? Why don't we find out on the following pages.