A technology intelligence firm called Tech Insights (via TechPowerUp) has dissected an Intel Cannon Lake processor and put it under an electron microscope. The purpose was to closely check the engineering progress Intel has made in its transition from 14nm to 10nm processors.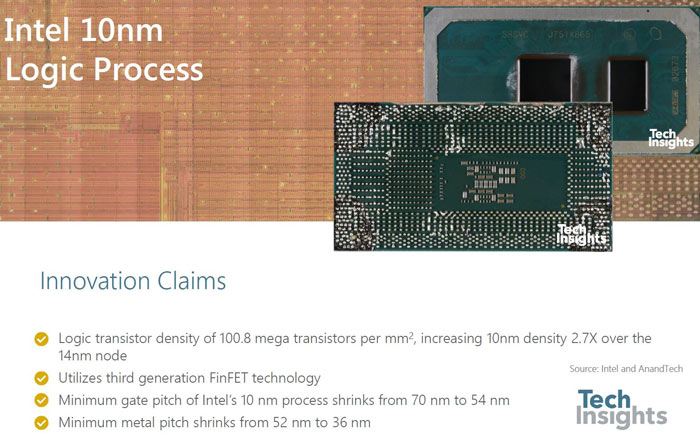 To recap, the Intel Core i3-8121U is a dual-core CPU that was the first 10nm Cannon Lake processor to appear in retail products. HEXUS noted back in mid-May that Lenovo had started to advertise and sell its Ideapad 330, featuring this chip, online in China. A couple of days later the Core i3-8121U appeared in Intel's ARK database. Tech Insights has put this new 10nm chip under intense scrutiny and discovered that it boasts of the following:
Logic transistor density of 100.8 million transistors per mm2, increasing 10nm density 2.7X over the 14nm node
Utilises third generation FinFET technology
Minimum gate pitch of Intel's 10nm process shrinks from 70nm to 54nm
Minimum metal pitch shrinks from 52nm to 36nm
The biggest single achievement that jumps off the page, and is indeed our headline, is that Intel's 10nm density is 2.7X improved over the 14nm node. This allows Intel to pack over 100 million transistors in one square millimetre. Looking though the above you will also see noted some significant size savings in transistor pitches.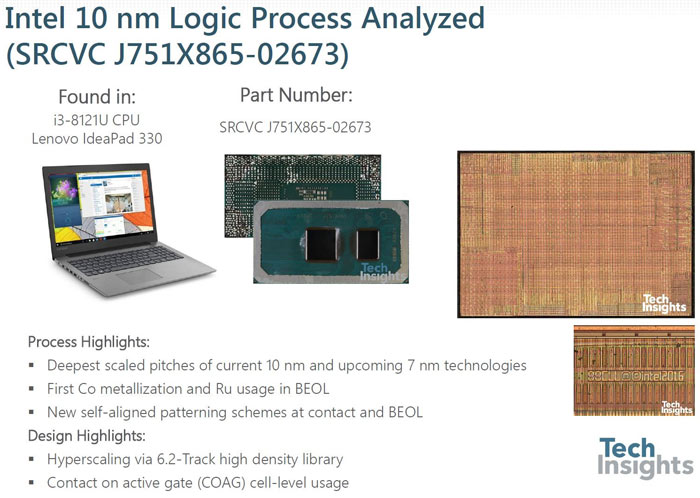 Intel's slow progress with rolling out 10nm Cannon Lake processors must be the result of some technical difficulties it is having. The humble Core i3 in the Lenovo laptop doesn't even have an iGP present or enabled, which might be a clue to the difficulty Intel is having with its process / yields. Meanwhile, AMD CPU plans seem to be advancing nicely and it faces a "generational opportunity" to gain share against Intel, reported CNBC earlier this week.