The first generation 'Snapdragon PCs', previously referred to by other terms such as 'Cellular PCs' or 'always connected PCs', are powered by the 10nm Qualcomm Snapdragon 835. Then we heard of upgraded Snapdragon PCs on the way packing Qualcomm's latest and greatest SD845 mobile platform. Machines based upon the SD845 would be approx 25 per cent faster than the previous generation, said Qualcomm. Those who are interested in smartphones and tablets will know these are flagship Qualcomm processors, which would give fantastic performance in a new mobile device. However, for Windows 10 and its applications, reports and reviews of 1st gen Snapdragon PCs are fine overall, but with a recurring theme that the "CPU inside feels sluggish compared to Intel Core," rivals.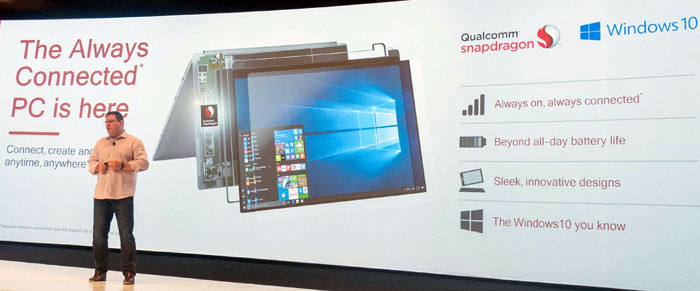 Now Ars Technica reports, via WinFuture (German), that Qualcomm is readying the new Snapdragon 1000 chip, which is has been purposely built for Windows 10 on ARM. The SD1000 SoC will have a 12W TDP and be competitive with Intel's Y-Series (4.5W) and U-Series (15W) processors.
In a test configuration seen by the source the Snapdragon 1000 was a socketed processor. It is rather large at 20x15mm, compared to the newest SD850 at 12x12mm (but still smaller than Intel's 45x24mm chips). The test platform's SoC was partnered by 16GB of LPDDR4X RAM, two 128GB UFS flash drives, 802.11ad gigabit Wi-Fi, gigabit LTE, and a new power management controller.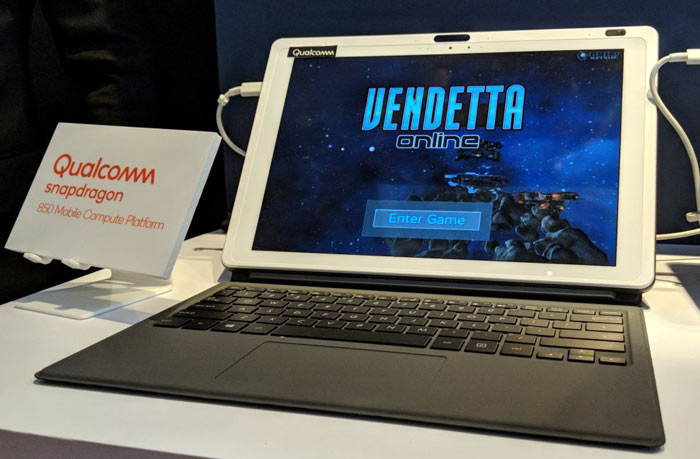 SD850 systems were on show at Computex 2018
Inside, the Snapdragon 1000 it is expected that the CPU cores will leverage Arm's Cortex-A76 architecture. According to Arm's own testing A76 processors are similar in performance to U-series Intel Skylake processors from 2017. However, at 12W for the whole SoC. Last but not least it is expected that the Snapdragon 1000 will be built on TSMC's 7nm manufacturing process.