AMD is today announcing four 2nd Generation Ryzen processors primed for mainstream and performance PCs. The models comprise the Ryzen 7 2700X, Ryzen 7 2700, Ryzen 5 2600X and Ryzen 5 2600. Retail availability is set for April 19. In this news article we look at some of the high-level features; the full review will arrive in due course.
2nd Generation Ryzen processors are set apart from their first-gen cousins by speed above all else. Ryzen 7s continue to use an eight-core, 16-thread architecture, now improved to 'Zen+', with the headline 2700X able to achieve a peak boost clock of 4.3GHz. Running down the stack shows that, compared to first-gen, each model has higher base and boost clocks.
Coolers are included with each processor. Ryzen 7 2700X gets a new one that's called Wraith Prism. Outfitted with RGB lighting ahoy, it's reckoned to perform on a par with a $50 aftermarket heatsink. Other models are shipped with either the Wraith Spire or Stealth.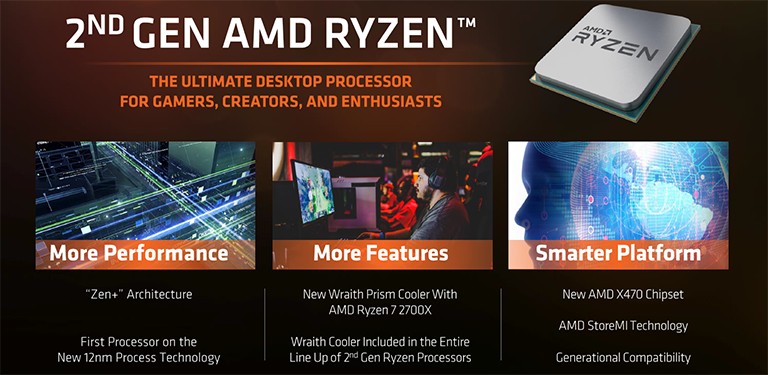 Pricing is consistent with the recent cuts, too. 2700X is likely to be faster than 1800X and cheaper. The others fall into the pricing spectrum nicely. TDPs are largely consistent, as well, with non-X models pulling 65W while the 2600X grabs 95W and the range-topping 2700X 105W.
Without giving too much away, AMD has been able to hike frequencies as it has moved from a 14nm to 12nm manufacturing process. There is a little more to it than that; we'll share exactly what in the upcoming review.

Each 2nd Gen chip will run on any AM4 motherboard once it has a new BIOS in place. Coinciding with this launch, however, AMD is also releasing the X470 chipset. Its two call-out features are a revised power design that ought to help at higher frequencies and, as you can see at the bottom, StoreMI Technology.
StoreMi is now the AMD name for a storage-amalgamating technology that has also been known as Enmotus FuzeDrive. The purpose is to use all of your storage subsystem as one drive, moving the most commonly-used data to the fastest drive. The process is invisible to the user, handled by software, so if you upgrade a PC featuring a 1TB spinning drive by adding an SSD, the software will automatically begin using the SSD for loading. No OS reinstall is required, you can add multiple drives, and, in theory, it seems like a good idea. The software will be free for X470 and likely cost $20 for other Ryzen-supporting chipsets.
AMD is hoping that the extra speed and decent pricing of these 2nd Gen chips will be enough to sway the undecided towards its platform, eschewing the latest Core i7 and Core i5 processors from Intel. Competition is good for the industry, of course, and we'll know soon just how these Ryzen play out in the mainstream PC space. Stay tuned.
Update: pre-order pricing shows the Ryzen 7 2700X to be around £280, the Ryzen 7 2700 £255, Ryzen 5 2600X £193 and Ryzen 5 2600 £170.