During AMD's official Threadripper reveal we heard about just three such TR4 package processors, all with a TDP of 180W. At the top of the pile was the Ryzen Threadripper 1950X with 16C/32T, followed by the 1920X with 12C/24T, and finally the 1900X with 8C/16T. As the core count went down, so did the price, but so did the base clock speed. The trio of Threadrippers mentioned all have release dates this month; the 1950X and 1920X are scheduled for 10th August availability (next Thursday), and the 1900X will be released at the end of this month.
Now we are pretty sure that there will be another Ryzen Threadripper coming shortly. Tweakers discovered that AMD motherboard partners Asus, ASRock, and Gigabyte have all listed another processor in their product processor support pages - the Ryzen Threadripper 1920.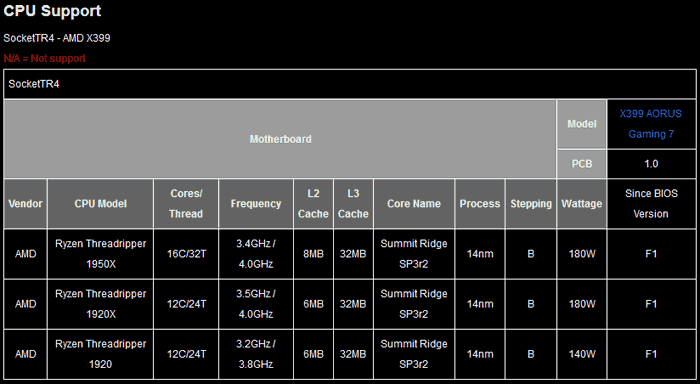 Asus has since cannily taken down any references to the Threadripper 1920 in its support documentation for the ROG Zenith Extreme. However, the ASRock and Gigabyte support pages remain with the details intact, at the time of writing. Above you can find an image from the support page for the X399 AORUS Gaming 7 (rev. 1.0) motherboard, and it spills all the important details of the AMD Ryzen Threadripper 1920 non-X CPU.
As you can see, and would expect, the Ryzen Threadripper 1920X and 1920 have a lot in common, they offer the same 12C/24T core config, plus 6MB L2 cache and 32MB L3 cache. However the base/turbo clocks are somewhat lower on the non-X chip, 3.2GHz / 3.8GHz compared to 3.5GHz / 4.0GHz, and it will lack the boost provided by AMD's XFR technology in some situations.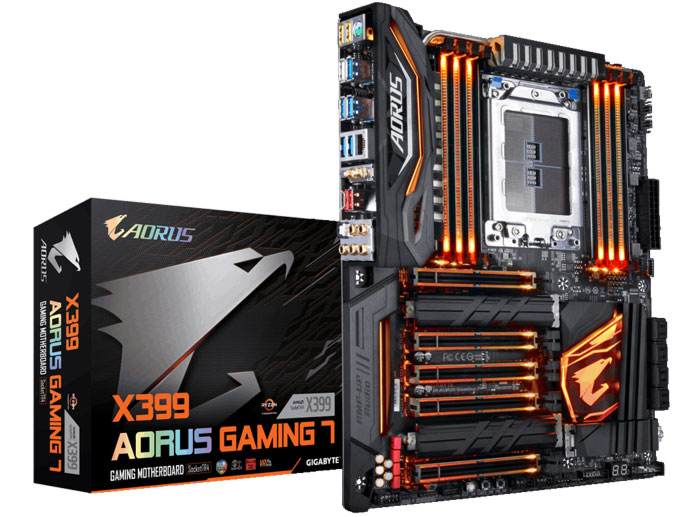 The Ryzen Threadripper 1920 does have some upsides though, its rated at 140W, the lowest power TR4 chip known, and it will likely save the purchaser some cash. We don't have any price from the motherboard partners, of course, but it will be situated somewhere cosy between the $550 Threadripper 1900X and the $799 Threadripper 1920X.