Though the AMD Ryzen 5 series of CPUs is yet to be launched, a comparative review featuring one such processor hit YouTube this weekend (on April 1st, unfortunately). The review compared a stock AMD Ryzen 5 1400 (4C/8T), and the same CPU overclocked to 3.8GHz, against an Intel Core i5 7400 (4C/4T), and an Intel Pentium G4560 (2C/4T).
Reviewer Santiago Santiago uploaded gaming analysis comparisons showing the four configurations above running eight popular modern AAA games. The video presentation (embedded above) is in quad split screen and you can skip to the following index points, depending on your interest:
Overclocking at 00:16
Specs at 00:41
Battlefield 1 DX12 at 01:18 ("I used NZXT cam, with afterburner the game crashed, the GPU usage isn't accurate, that's why it jumps from 0 to 100% randomly sometimes")
Fallout 4 at 04:03
GTA 5 at 04:51
Hitman DX12 at 06:49
Just Cause 3 at 07:39
Assassin's Creed Unity at 08:06
The Witcher 3 at 08:57
Rise Of The Tomb Raider DX12 at 10:02
In the YouTube video description the above list is clickable to save you time. Furthermore, Santiago lists the full and complete system specs in this section. To sum up the specs, both AMD and Intel systems were equipped with 8GB DDR4 2133MHz RAM, an HIS Radeon RX 480 IceQ X2 Roaring 8GB graphics card, a 1TB HDD, and Windows 10 Pro x64.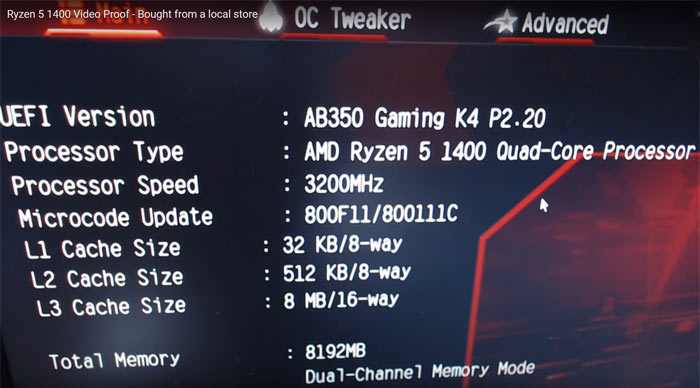 Interestingly, Santiago's choice of Intel Core i5 7400 as the main competitor for the Ryzen 5 1400 worked out quite well. The 65W Kaby Lake chip, only just introduced in January, ran neck and neck with the moderately OCed Ryzen 5 1400; sometimes better, sometimes trailing a little. Of course the dual-core Pentium was often left behind by some margin by the other challengers. Santiago also uploaded a video showing proof that he actually owns an AMD Ryzen 5 1400, which is worth a gander.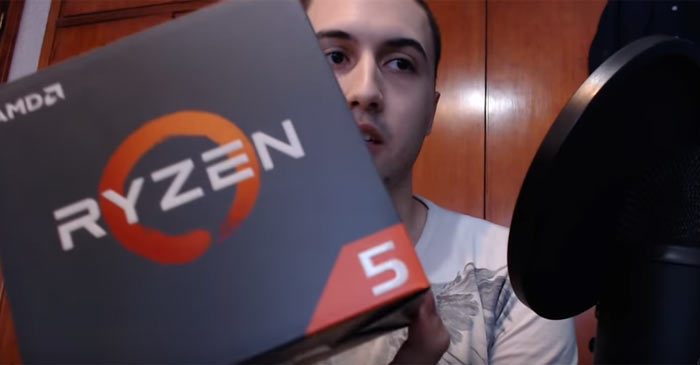 With AMD working on Ryzen optimisations off its own back and alongside developers the whole Ryzen range could enjoy better performance as time marches on. As a reminder, Ashes of the Singularity got an AMD Ryzen performance update just last week, and AMD is working on a BIOS update that will boost high speed memory utilisation among other things.