With the launch of the AMD Ryzen 7 CPUs and subsequent flood of reviews there did indeed seem to be something amiss with regards to gaming performance. Oddly, things were even more skewed in 1080p gaming, as some other reviews sites focussed upon. These results were surprising given the 8C/16T AMD Ryzen chips' storming success in many productivity applications and benchmarks.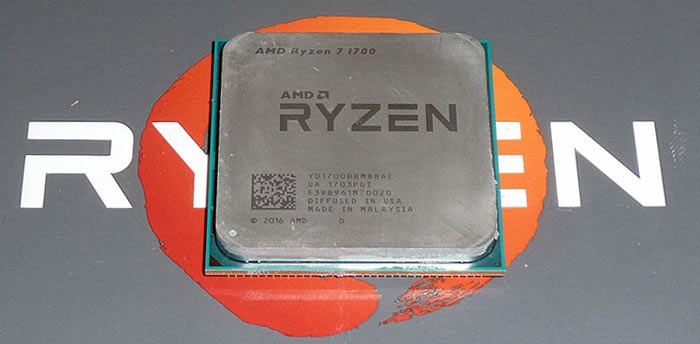 As the 'poor gaming performance' whispers became a virtual cacophony on the internet, AMD quickly responded with a statement. In summary, the statement said that until now 1080p gaming on PCs had been quite heavily optimised for Intel Core CPUs. Thus to improve things going forward AMD was seeding hundreds of Ryzen dev kits, and already developers like Oxide Games and Creative Assembly had seen "significant performance uplifts".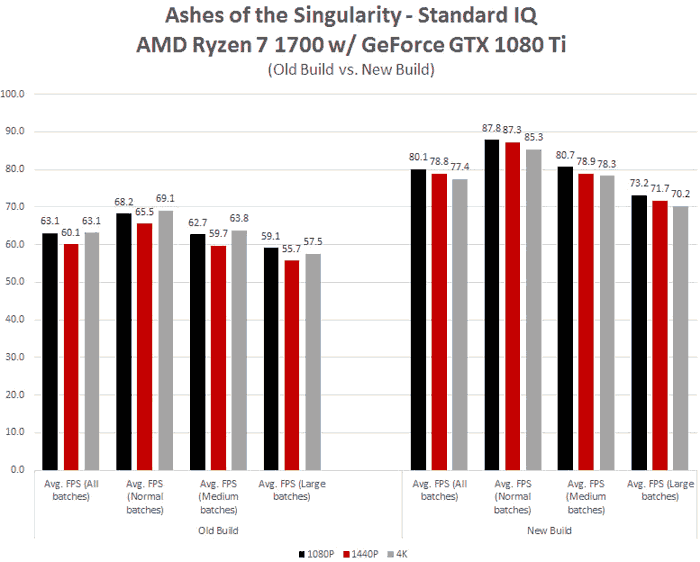 Now Oxide has a new build of Ashes of the Singularity to share and independent third parties can verify that its Ryzen optimisations pay impressive dividends. I saw both PCPer and Legit Reviews test the updated AOTS game - version 26118 against the previous retail shipping version 25624. I've included a couple of graphs from the Legit Reviews comparison here, for their compact simplicity (above and below).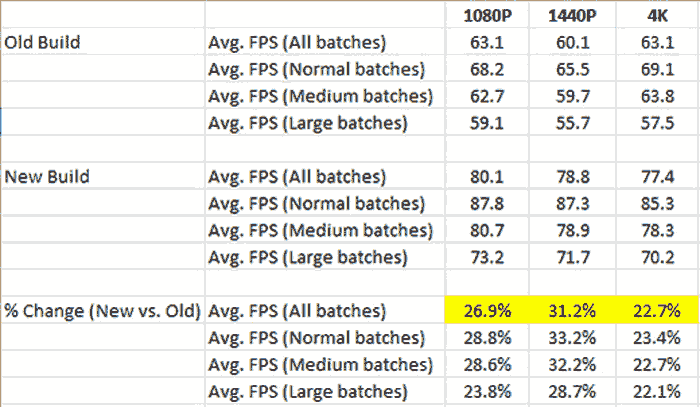 There are considerable performance uplifts in all resolutions tested. As highlighted above, average frames per second performance goes up by almost a third, depending upon screen resolutions tested. Legit Reviews did its testing on a stock clocked AMD Ryzen 7 1700 processor with DDR4 2933MHz memory at CL14 timings.
AMD and Oxide show us the possibilities but haven't finished yet, so let's hope everyone gets on board to make the most of Ryzen CPUs. Stardock and Oxide CEO Brad Wardell asserted "As good as AMD Ryzen is right now – and it's remarkably fast – we've already seen that we can tweak games like Ashes of the Singularity to take even more advantage of its impressive core count and processing power. AMD Ryzen brings resources to the table that will change what people will come to expect from a PC gaming experience."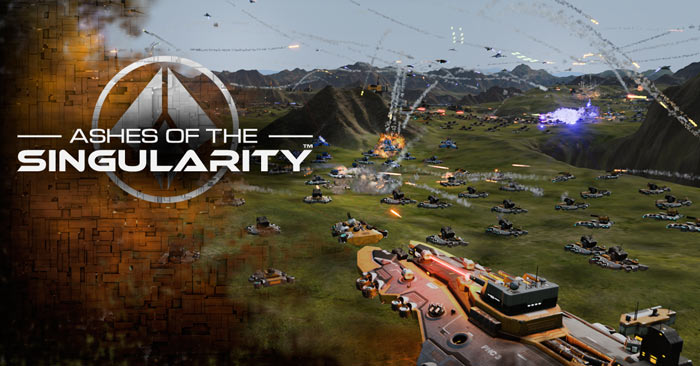 AMD will launch its important mid-market Ryzen 5 CPUs on 11th April, the same day as the Windows 10 Creators Update starts to roll out.