Lian Li has launched a new mid tower chassis called the PC-7N. This aluminium chassis is designed with a classic Lian Li aesthetic but provides modern internal sensibilities such as tool-less easy building, customisable drive mounts, generous build space and versatile cooling options.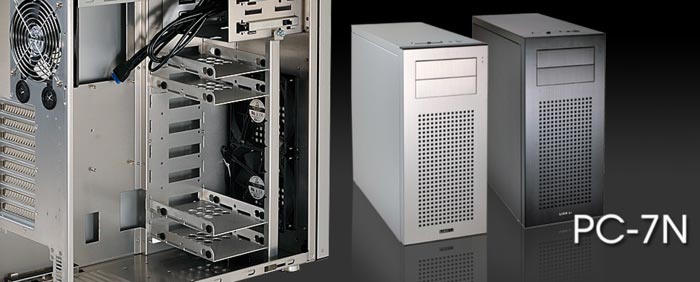 Product highlights of the Lian Li PC-7N are as follows:
Customizable modular drive rack
Fits ATX or Micro-ATX motherboards
Fits four 3.5-inch HDDs or 2.5-inch SSDs
Water cooling: up to 140mm x 280mm x 60mm on internal bracket
Removable front panel and mesh filter; two 120mm intake fans, one 120mm exhaust fan
Chassis dimensions: (W)210mm, (H)473mm, (D)500mm, weighs 5.2Kg
Accommodates VGA cards up to 370mm long
Accommodates CPU coolers up to 170mm tall
Accommodates PSUs up to 270mm long
As mentioned in the intro, the customisable drive mounts are a particularly attractive feature. The PC-7N includes four drive trays fitted with vibration-dampening rubber washers. Each tray can be installed in one of eight slots near the front intake fans. Builders can easily remove, replace, or reposition each drive tray as needed. The drives are secured by a removable aluminium arm secured by thumbscrew.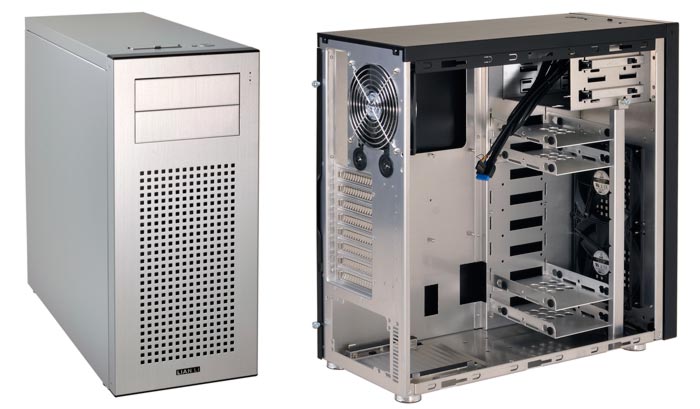 The tool-less versatility of this chassis extends to the two 5.25-inch bays, the front panel and filters and the adjustable aluminium feet. For further easy, and clean building there is 14mm of space behind the motherboard tray, and 27mm space behind the drive rack for cable management. For easy operability there is a power switch, HD audio ports, and two USB 3.0 ports positioned just above the front panel, the open ports have a closable flip cover, as you can see below.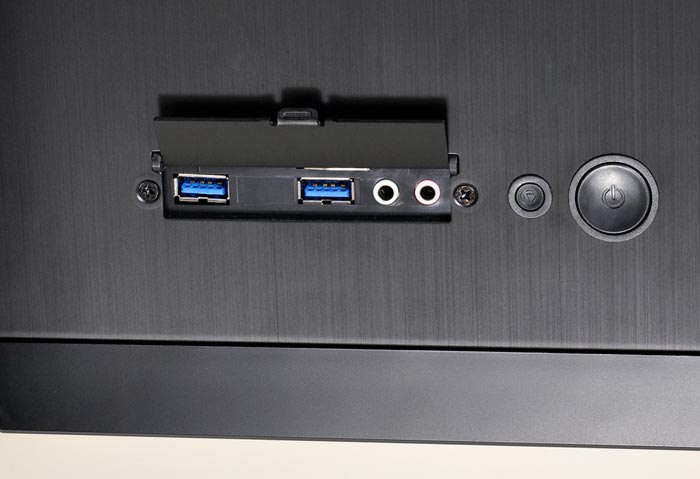 Versatile modern cooling options are facilitated, including grommets for AIO water cooling systems. Radiators as large as 140mmx280mmx60mm can be installed. As standard there are two 120mm intake fans at the front panel, with another 120mm exhaust fan on the rear panel. You can fit a CPU cooler as tall as 170mm, please refer to the bullet points above for other maximum compatibility measurements.
The PC-7N will be available in silver and black at the end of March for £84.90 in the UK. In the USA it will be available at the end of this month with an MSRP of $99.