Holland-based Phanteks has today launched a pair of compact midtower chassis; the Eclipse P400 and P400S . These chassis are said to facilitate clean and beautiful builds, provide RGB lighting effects and are based on the user-friendly Enthoo Series. The new chassis will be available in three colours: Satin Black, Anthracite Grey and Glacier White, starting from next month.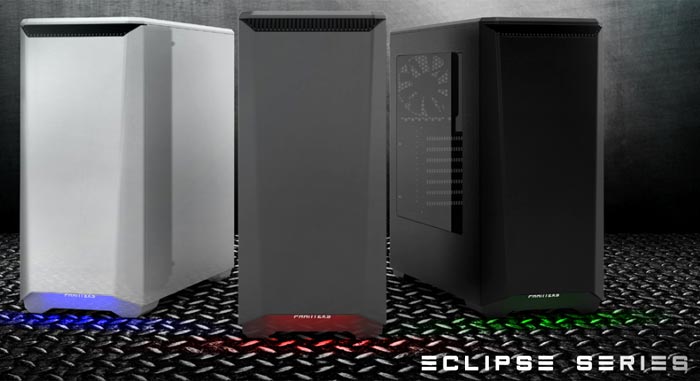 Phanteks' Eclipse P400 is aimed at novice and intermediate PC builders who want to create a clean and appealing PC build. Buyers will benefit from Enthoo Series inspired user-friendly interior layouts. Adding to the appeal of this fledgling Eclipse Series is; a full metal exterior, RGB lighting system with colour control and optional RGB interior, lighting strips, equipped with dust filters, all-in-one radiator mounting location in front, power supply shroud, 2x 120mm fans supplied, and cable management tools.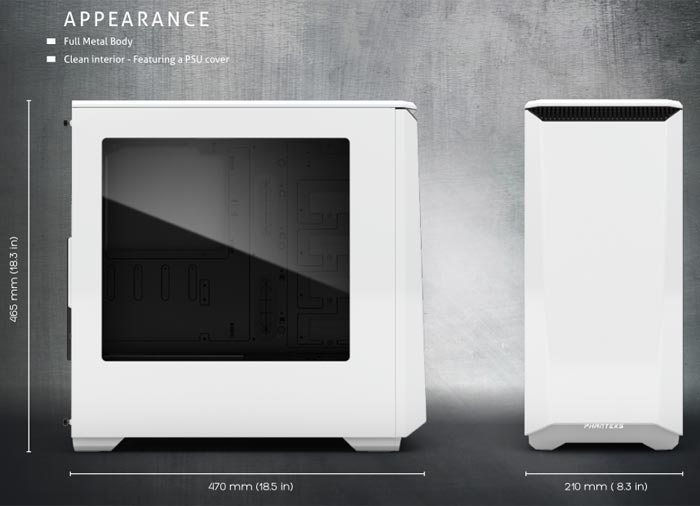 The Eclipse P400S is a 'silent' version of the P400 chassis which will be made available in windowed and windowless versions. As befits its suffix, this chassis is equipped with soundproofing layers which include; a top ventilation covers with soundproofing layer, front and side panels with soundproofing layers and an integrated 3-speed fan controller. See diagram below.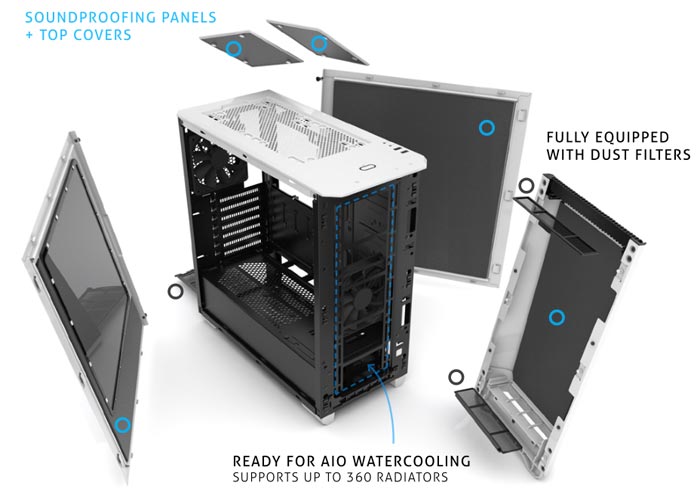 Eclipse P400S version, showing soundproofing panels
Common specifications:
Dimension: 210 mm x 465 mm x 470 mm (W x H x D)
Weight: 7Kg
Material(s): Steel chassis, steel exterior, ABS
Motherboard support: ATX, Micro ATX, Mini ITX, E-ATX *(up to 272mm wide, cannot use rubber grommets)
Front I/O: 2x USB 3.0, Mic, Headphone, Reset, LED control
Expansion/bays: 7 expansion slots, 6x internal 3.5-inch drive capacity, 2x dedicated 2.5-inch mounting positions
Cooling capacity: Front 3x 120mm fans (1 included) or 2x 140mm fans
Top 2x 120mm fans or 2x 140mm fans
Rear 1x 120mm fan included
Liquid cooling up to 360mm radiator front and 120mm radiator rear
Maximum compatibility: graphic cards up to 395mm (280mm with optional HDD brackets installed), CPU coolers up to 170mm tall, PSU up to 270mm
Colours: Satin Black, Anthracite Grey and Glacier White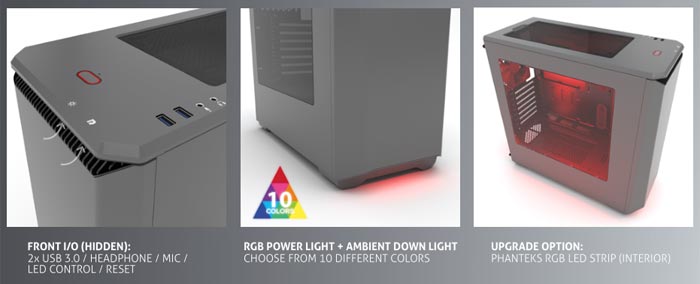 In an email to HEXUS Phanteks said that the Eclipse P400 and P400S will be available throughout Europe from March 2016, at the following recommended retail prices:
PH-EC416P_BK/AG €69,90 / PH-EC416P_WT €79,90
PH-EC416PSW_BK/AG €79,90 / PH-EC416PSW_WT €89,90 (Silent Window)
PH-EC416PSC_BK/AG €79,90 / PH-EC416PSC_WT €89,90 (Silent Closed Panel)
Buyers receive a 5 year limited warranty. When this story goes live this YouTube promotional video should also become available for viewing.