Chassis manufacturing specialists Lian Li have announced a new Mini Tower chassis for Mini-ITX motherboards, called the PC-Q04. It is designed for fanless systems and provides enhanced airflow, compared to previous Q-Series chassis, thanks to its enhanced vents.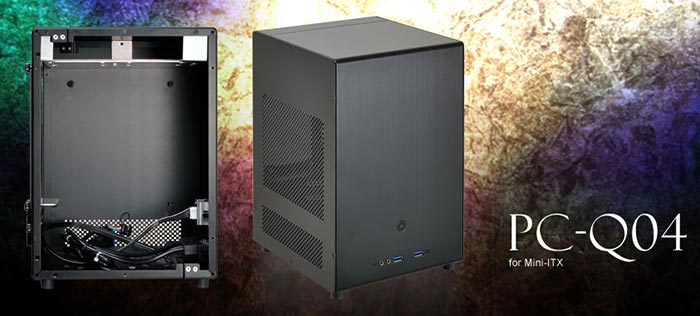 Lian Li has invested a lot of efforts in expanding its Mini-ITX compatible chassis recently, launching the PC-Q10, with its large side window, at the end of September, having just launched the PC-Q17 ROG-certified mini-ITX chassis around the same time and the PC-Q21 earlier that month. However the PC-Q04 stands apart as Lian Li's first such fanless design.
Like most of Lian Li's chassis designs the PC-Q04 fanless Micro-ITX will be hewn from aluminium and made available in a choice of silver or black finishes. Its measurements are compact at (W)194mm x (H)294mm x (D)210mm – the side panels are very nearly the same size as a sheet of A4 paper. The PC-Q04 offers a minimal, light weight design, probably helped by all material removed by the venting, weighing just 1.33Kg.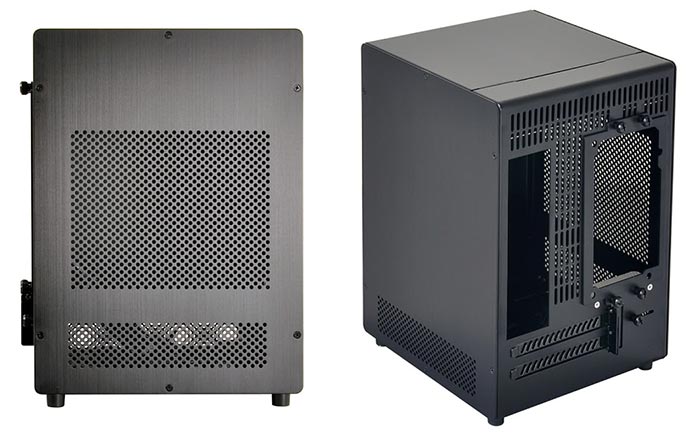 You can see from the pictures in this article that Lian Li eschews any provision for front mounting drives, such as the slim ODD slot provided by the PC-Q21. Both floor and roof space in the chassis can be used for drive mounting. Cooling vents have been 'targeted' by Lian Li to facilitate airflow nearby 'hot' components. The CPU area, GPU installation area and PSU area all are located near generous venting ducts. Furthermore tall rubber feet provide room beneath the chassis to facilitate airflow through the whole chassis as the warm air rises.
Buyers of this chassis can fit up to 1x 3.5-inch HDD and 1x 2.5-inch drive or 2x 2.5-inch drives in the upper removable tray and one further drive of either size on the chassis floor panel. If you wish you can forgo any storage capacity in the bottom of the chassis and fit a 120/140mm fan.
Maximum compatibility is as follows:
A full ATX size PSU of up to 160mm long, mounted opposite the CPU.
70mm clearance for CPU coolers.
Video cards can be up to 190mm long can be fitted; the case has two expansion slots with an extra margin for particularly thick cards.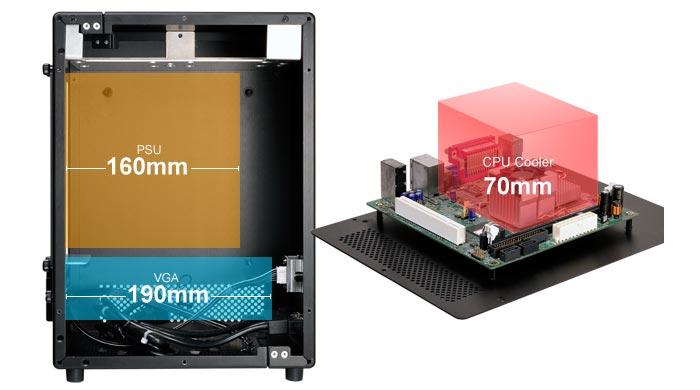 Rounding off the case design users can enjoy front access I/O Ports consisting of USB 3.0 x2 and headphone and microphone sockets. The front panel offers a single power button.
The Lian Li PC-Q04 will become available in early December, priced at £44.90.