Silverstone has an eye catching new mini-ITX chassis on display at its CES 2015 booth which it describes as an "extreme enthusiasts SFF" case. While the 9.8 litre Silverstone Raven RVZ02 chassis is only 80mm slim and compact it is still capable of housing a standard dual-slot graphics card such as the potent Nvidia GeForce GTX 980. Silverstone has made this chassis around 30 per cent more compact than the RVZ01 which hit retail about a year ago.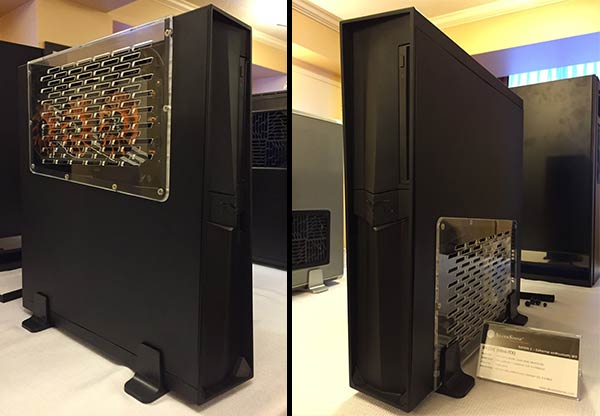 The Silverstone Raven RVZ02 measures 350mm x 350mm x 80mm. Its sleek design is a little bit sporty but doesn't overdo it, so wouldn't look too flashy to sit among your other tech, audio and video kit in your living room. It manages to fit a standard dual-slot graphics card in thanks to the use of a PCI-Express riser which is angled to position the graphics card parallel to the motherboard.
The Raven RVZ02 is constructed from reinforced plastic and steel. It offers room for a slim ODD and two internal 2.5-inch drives plus one that is externally mounted. Power is supplied by an SFX PSU. Unfortunately Silverstone hasn't set up a product page for this new chassis as yet but the TechReport snapped a couple of internal shots (below) showing how things fit inside from a couple of angles. It appears that the chassis offers no active cooling just cannily positioned venting for the components to blow out warm air via their own fan units.

A similar but slightly larger chassis (14 litres) called the FTZ01 is also on the way from Silverstone. This model, first seen at Computex 2014, is hewn from aluminium, sporting a natural white metallic finish, and features a dual-chamber design and slim fans. TechReport says the Silverstone FTZ01 will cost $129 when it becomes available later this month.