Thermaltake has launched a new range of chassis at the International CES. It proudly announced the new Core X1, X2, X9 liquid cooling supported Cube Case Series. The Thermaltake Core X1, X2, X9 support up to iTX, M-ATX, E-ATX motherboards respectively. All these new chassis are liquid cooling friendly and marked with "the exclusive Tt LCS Certified logo".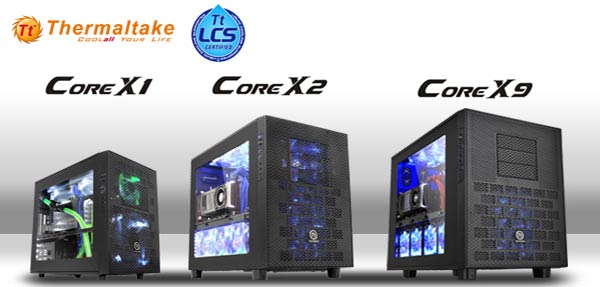 As you might have guessed from the series name, these chassis are rather cube-ish, which aids in their stackability. However they aren't cubes as their x,y and z dimensions are not even nearly the same, not for any of the range. Hopefully that fact won't anger any 'geometrically pure' chassis enthusiasts.
The Tt LCS Certified nature of these chassis means that they have been tested to be highly compatible with "extreme liquid cooling configurations to ensure the best performance, features, and fit". That means more than just having a case with a couple of rubber grommets installed in the back. Users can also customise the chassis looks and functionality with interchangeable windows and I/O panel layouts.
Thermaltake suggests that the stacking of multiple Cube Case Series chassis isn't only for those interested in running multiple systems. If you add a second chassis to your home gaming setup, for example, it could be used to contain externally-modular upgrades such as extra cooling or storage options. Check out the example pictured below.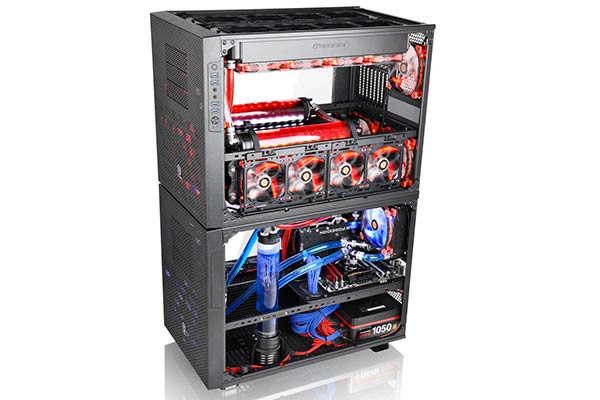 All the Core X Cube Series systems offer modular drive racks, dual slot graphics expansion capability and room for a tower CPU cooler. The interior space of a single Cube system is divided into two zones; the upper chamber is built for the best cooling performance of 'hot' components while the lower chamber is for kitting-out with your upto 200mm PSU and various storage devices.
In addition to the liquid cooling oprions that are open to you Thermaltake doesn't neglect air cooling and ventilation. The chassis offer numerous mounting points for fans between 120mm and 200mm in size, with the essentials coming pre-installed.
If you are interested in the above range you can check out the individual product pages, as below:
The above chassis will be available via Newegg in the US, Mwave in Australia and at Scan in the UK.