The latest members of the Silverstone Grandia HTPC chassis range are to ship shortly according to reports on Tom's Hardware and TechPowerUp. The Silverstone Grandia GD10 and Grandia GD09, which HEXUS looked at in a preview last November, might be just what you have been waiting for to build an HTPC from some spare full sized PC components.

Grandia GD09
As mentioned in our preview the Grandia GD10 and GD09 are basically the same chassis. Silverstone has made the GD09 cheaper by using a "Plastic front panel with faux aluminium finish" and reducing the number of bundled 120mm fans to two; one on the right and one on the left side. The more expensive Grandia GD10 has and "Aluminium door with plastic front panel" with two 120mm fans on the right and one on the left.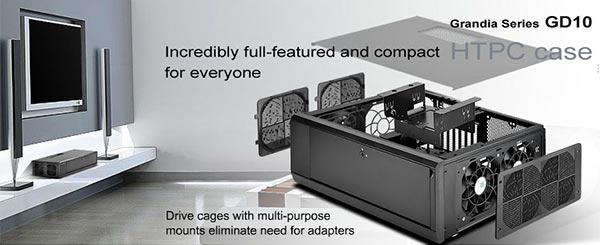 Grandia GD10
So let's look at the common set of specifications:
Construction: 0.8mm steel body, front panels vary as above
Motherboard compatibility: SSI-CEB, ATX, Micro-ATX
Ext drive bays: 5.25" x 1 (compatible with 3.5" x 1 or 2.5" x 2)
Int drive bays: 3.5" x 2 (one compatible with 2.5"), 2.5" x1
Cooling: Rear 2 x 80mm fan slot, Right 2 x 120mm intake fan, 900rpm, 18dBA (only one in GD09), Left 1 x 120mm fan, 900rpm, 18dBA, compatible with 80mm fan, Top expansion card vent
Expansion slots: 7+1
Maximum compatibility: PSU 220mm (180mm is recommended), expansion cards up to 12.2-inches (310mm), CPU cooler height of 138mm
Front I/O: USB3.0 x 2, audio x1, mic x1
Dimensions: 442mm wide, 171mm high, 236mm deep (27.4 litres), 4.8Kg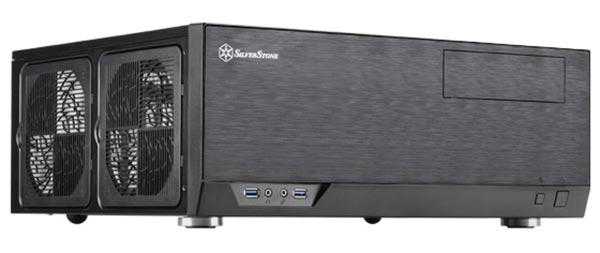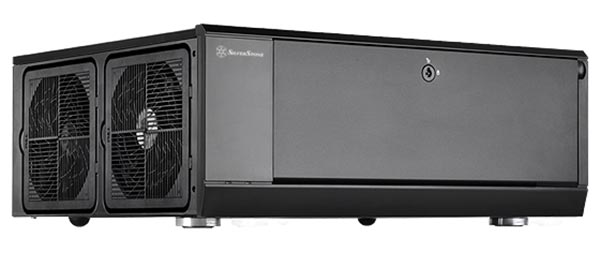 Is the Grandia GD09/10 "the perfect HTPC case for everyone," as Silverstone suggests? Of course not or it would have discontinued its ranges including 13 other HTPC cases. Also some might prefer and find enough power in a much smaller HTPC chassis, perhaps aimed at providing a space for your choice of cool/quiet components.

Reports say that the bigger budget Silverstone Grandia GD10 is already showing up in Europe for €90. Our previous information suggested prices of US$99 for the GD10 and US$75 for the GD09.