Aluminium PC chassis specialist Lian Li has published a preview of its upcoming PC-V2130 full tower chassis. The firm details the key features of this 94L case, which is said to bring "enormous storage capabilities and liquid cooling" facilities. This successor to the popular high-end Lian Li PC-V2120 full tower is also posed and photographed from every angle – inside and out.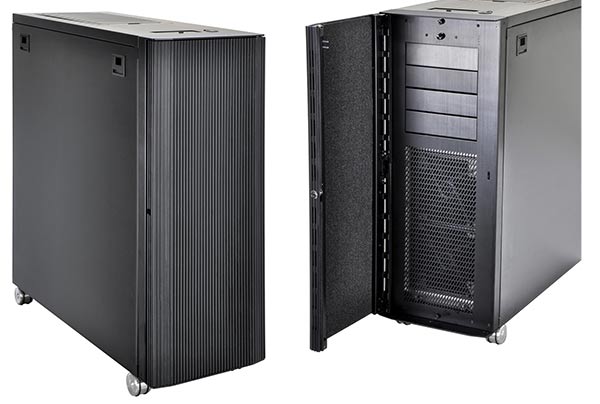 The Lian Li PC-V2130 is said to be extremely versatile with its configuration and capabilities to enable users deploy the hardware of your choice within its frame. Highlighted updates to this chassis include the radiator support for top, front or bottom positioning. It also boasts a front fan controller, locking wheels and locking front door. Other niceties include the removable 5.25-inch cage, the use of sound dampening materials within the chassis and tool-less PCI slot mounting.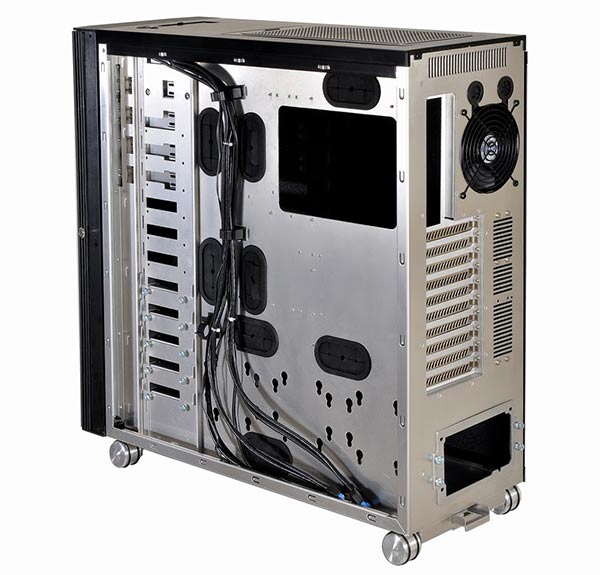 Model

PC-V2120

PC-V2130

Case Type

Full Tower Chassis

Full Tower Chassis

Dimensions

(W) 235mm, (H) 635mm, (D) 630mm

(W) 237mm, (H) 640mm, (D) 625mm

Net Weight

14.4 kg

9.8Kg

5.25" drive bay (External)

5

4 or 2.3-inch HDD x3, HD-07 (optional)

3.5" drive bay (External)

None

None

HDD bay

10 + 3 (Using 5.25-inch Bays x3)

3.5" x8, 2.5" x4,
+ 3.5" x3 or 2.5" x3 on motherboard tray

Expansion Slot

11

7

Motherboard

E-ATX, ATX, Micro-ATX, HPTX

XL-ATX, ATX, Micro-ATX

System Fan (Front)

140mm Fan x3, 120mm Fan x1

140mm Fan x 2

System Fan (Top)

120mm Fan Hole x3, (Fan not included)

140mm or 120mm Fan x2 (optional)

System Fan (Rear)

120mm Fan x1

120mm Fan x 1

I/O ports

USB3.0 x4, e-SATA x1, HD Audio

USB3.0 x4, HD Audio

Maximum Compatibility

VGA Card length: 360mm, PSU length: 170mm,
CPU cooler height:180mm

VGA Card length: 360mm to 480mm (Max), PSU length: 200mm,
CPU cooler height:180mm

240mm or 280mm radiator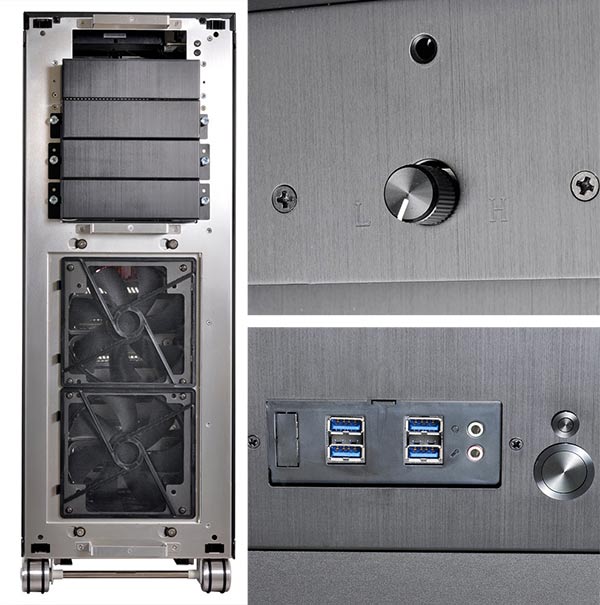 I've compiled a list of specs from the Lian Li preview blog post and tabulated them side by side with its PC-V2120 predecessor (above). As you can see from a quick glance through the table, the chassis remains roughly the same size but Lian Li has cut the weight dramatically and increased both the cooling options and maximum compatibility for key components. The most significant cut to the spec to accommodate the changes has been in the reduction in the number of PCI slots from eleven to seven.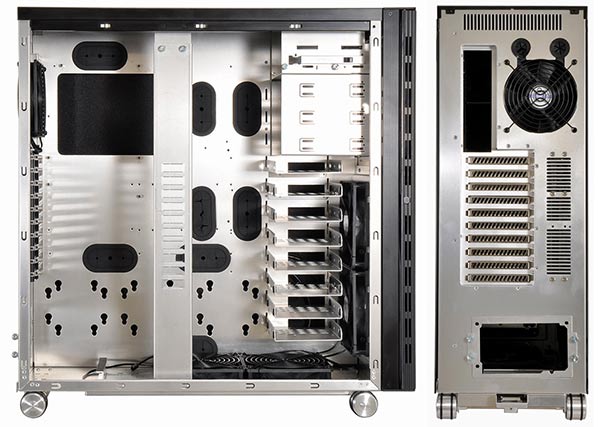 We also hear that the PC-V2130 will be made available in silver and black with the black option having the choice of a silver or black interior. Lian Li didn't clue us up on any pricing details and vaguely said that the new chassis will be available in the "next coming months".