There's a lot of talk of PCs heading into the living room via small-form-factor solutions such as the Steam Machine, but if you're inclined to build your own, you might be eagerly anticipating SilverStone's next offerings.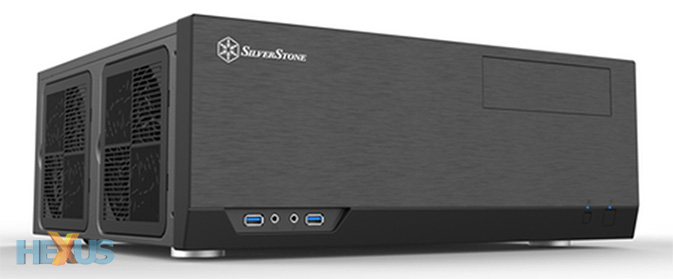 SilverStone Grandia GD09
The firm has a proven track record when it comes to HTPC enclosures and will soon be looking to expand its product line with the launch of the Grandia GD09 and GD10 models.
SilverStone's duo will be built around the same steel chassis but will be differentiated through price, front panel material and the number of bundled fans. In the concept shots above and below, we can see that the GD09 will ship with a plastic front panel, whereas the GD10 will come equipped with a premium aluminium door.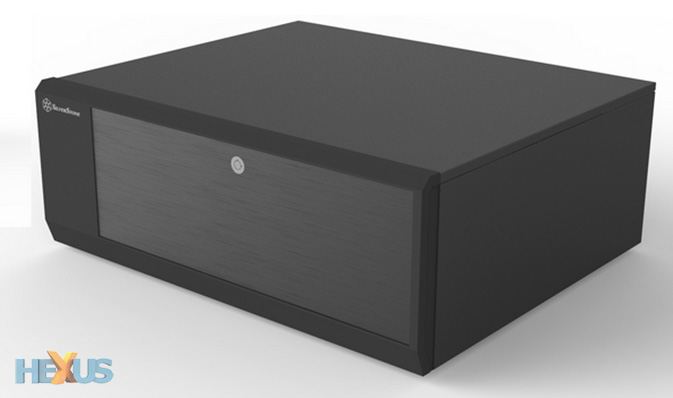 SilverStone Grandia GD10
There's no word on release date just yet, but both chassis are due soon and SilverStone is expected to hit an MSRP of $75 for the GD09 and $99 for the GD10. Both pricing and specification are still subject to change, but early indications suggest that the GD09 will ship with a single 120mm fan, while the premium GD10 will carry a trio of fans in the form of a 120mm left intake and dual 120mm right intakes.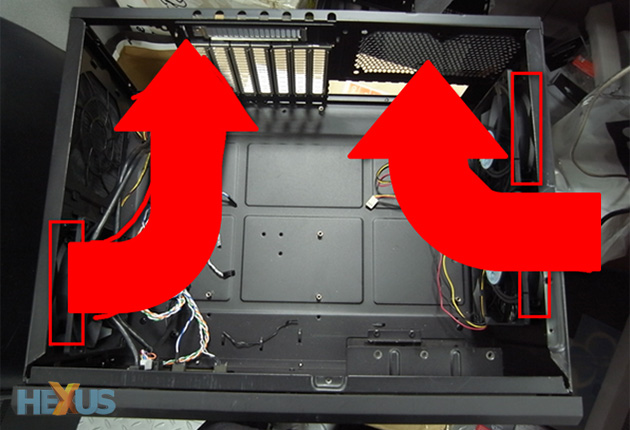 Positive Pressure Cooling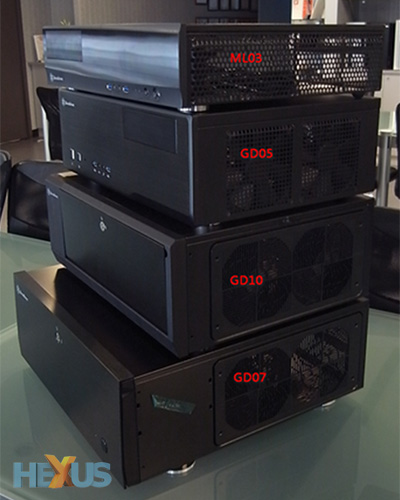 SilverStone Grandia Size Comparison
The fan configuration is taken from the existing GD04 and GD05 chassis, but the idea this time around is to offer greater compatibility for high-end components without increasing the size of the frame.
Measuring 440mm (W) x 170mm (H) x 358mm (D) in size, the GD09 and GD10 are noticeably more compact than the existing GD07 yet the newcomers retain support for Micro-ATX, ATX and SSI CEB motherboards - meaning full support for enthusiast boards such as Asus's Rampage IV Extreme.
Elsewhere, there's room for a CPU tower cooler standing up to 138mm tall, dual front-facing USB 3.0 ports, and a 7+1 expansion slot configuration that touts support for graphics cards measuring up to 310mm in length.
Standard ATX power supplies are also supported, but there has to be a compromise somewhere and SilverStone has decided that storage is less of a concern for the modern-day HTPC. Unlike the GD07, which offered no less than 11 drive bays, the GD10 trims right down to a two-section drive cage. The multi-purpose cage can accommodate either a 5.25in, 3.5in or dual 2.5in drives in its top section, as well as either a 3.5in or 2.5in drive at the bottom.
We're certainly looking forward to getting our hands on final production units, but we can't help feel as though ATX is yesterday's news. Here's hoping there's a new Micro- or Mini-ITX Grandia in the pipeline, too.