Cooler Master has announced a revamp of the "iconic" CM 690 Series. The new CM 690 III offers a "revolutionary update" to the well known series of PC cases. The exterior case appearance harkens back to its foundations but the interior has gone through a complete re-design offering buyers many improvements, according to a press release from the company. The main changes to the interior layout/design include a new HDD/SSD combo cage, support for graphics cards as long as 423mm and CPU coolers up to 171mm in height. Tool-less access and configuration options have been expanded to assist with quick installations.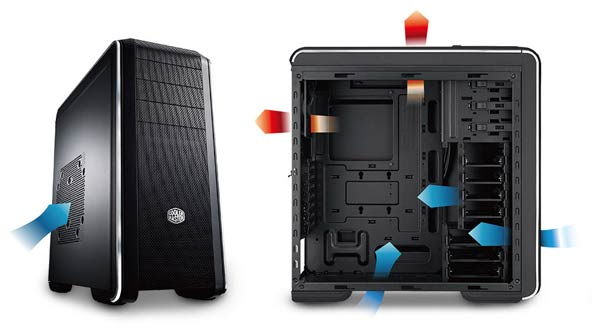 Cooler Master CM 690 III specifications:
Dimensions (W x H x D): 230 x 507 x 502 mm
Weight : 8.7Kg
Bays: 3 exposed 5.25-inch bays, 7 internal 3.5-inch bays
Supports up to 10 SSDs (4 in the removable HDD/SSD combo cage, 1 behind the M/B tray) and 7 HDDs with HDD/SSD combo trays
I/O panel: USB 3.0 x 2, USB 2.0 x 2, Audio In & Out (supports AC97 / HD Audio)
Full mesh on the front panel and top with large vents on the side panel for superior cooling
3 designated places for radiators: 240mm: top, front; 120mm: rear
Supports up to three 200mm large fans for extreme airflow with support for up to 9 total fans (KKN1: 9 fans, KWN1: 7 fans)
New ODD tool-less design "EZ tray" for quick installation
High-end component support – long graphics cards up to 423mm and tall CPU coolers up to 171mm, 7+1 expansion slots
Multiple removable dust filters (top, front, PSU) for improved system maintenance
Top compartment with cover to place personal belongings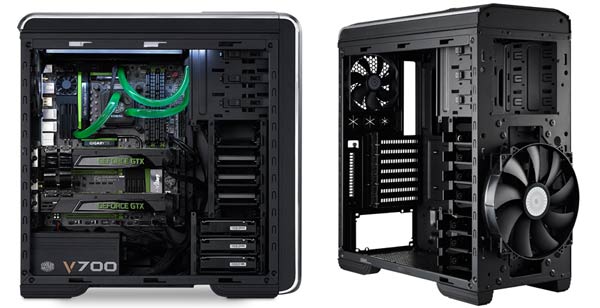 Cooler Master inform us that there are a multitude of cooling options available for this new case; it simultaneously supports two 240mm (2 x 120mm) liquid cooling radiators at the top and front for improved overall airflow, there's space for an optional 120mm rear radiator, in all you can install up to 9 fans in the case to keep air moving and your system chilled. Of course all these cooling options are configurable and you even have the option of installing up to three "massive 200mm fans" among those nine.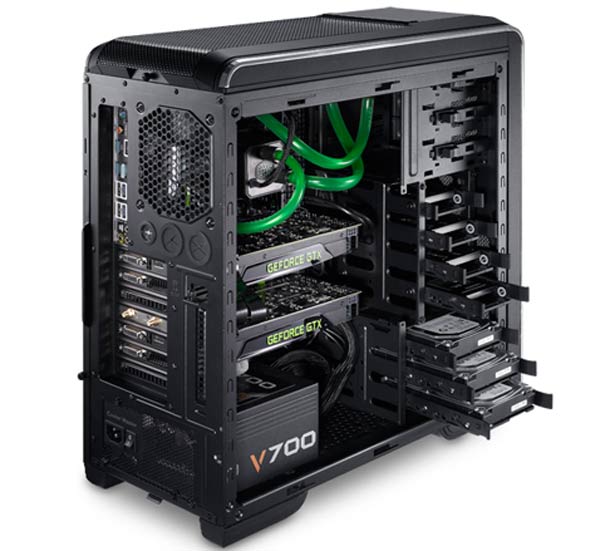 The new HDD/SSD combo cage allows for the deployment of either kind of drive in all seven system slots. In all it is possible to install up to 10 SSDs with one being mounted under the ODD cage, one behind the M/B tray, one at the bottom. If you don't require this cage it is completely removable, facilitating more space for other components. Cooler Master also notes that graphics cards up to 423mm long and tall CPU coolers up to 171mm are fully supported.
The Cooler Master CM 690 III will be available by Aug, 2013, prices and availability depend upon region.