Launched today, Cooler Master has, since the release of the COSMOS 1000 back in 2007, finally brought about a complete refresh and successor to the impressive COSMOS line with the COSMOS II chassis.
The chassis is to be available towards the end of January and whilst price is yet to be confirmed, will likely retail for around £350.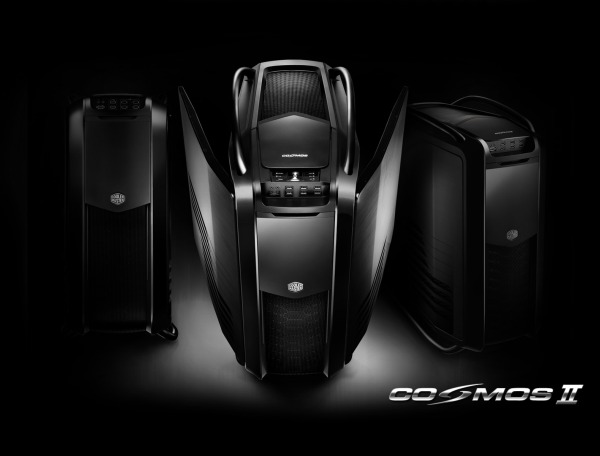 The body of this new 'Ultra Tower' utilises aluminium at the core with steel and mesh for support, strength and styling. Though there have been many tweaks and additions resulting in a 20 per cent increase in size, the case maintains the overall styling and look of the original COSMOS and keeps the popular aluminium rails of the original. The COSMOS II is 344x704x664mm and weights 22KG.
Covered by a sliding panel, the case features front I/O for eSATA, 2x USB 3.0, 4x USB 2.0, 3.5mm audio in/out. Just above the front-panel I/O are fan-speed controls, along with the usual power buttons and LED indicators. The case holds room for up to 13 HDDs, with two hot-swappable X-docks, five mid-cage slots and six bottom-cage slots, along with three tool-less 5.25 inch bays. The case supports XL-ATX motherboards and as such features 10+1 PCIe slots, with room for 38.5cm graphics cards, including support for a 4-way SLI/Crossfire configuration. In typical COSMOS fashion, the PSU is bottom-mounted.
Cable routing has been tweaked, with larger and better placed cable holes, a tool-less design, featuring hinged side-panels and a larger hole for fixing a heatsink retention plate, supporting current LGA2011 and AMD FM1 sockets.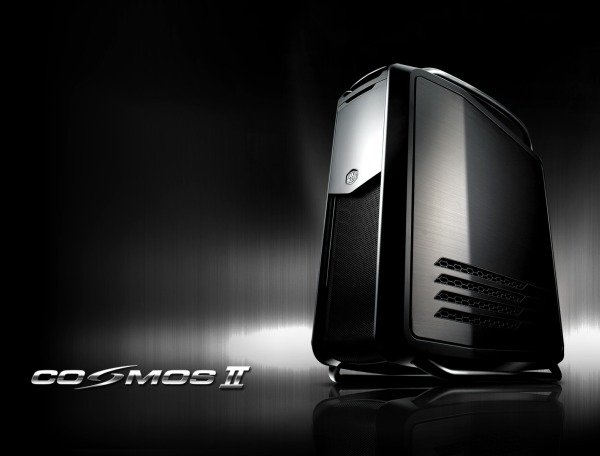 Room has been granted for a 360mm top-mount radiator, with space for a second 240mm radiator in place of the bottom hard drive cage, which has access to two 120mm side-mounted fans for direct cold air from outside the case; though support may vary from one manufacturer to another, the rear-fan exhaust port is designed to allow mounting of large 120mm or 140mm All-in-one (AIO) water cooling units. As standard, the case looks to feature a large, 200mm LED front intake fan (700RPM 19dBA), a 140mm rear extraction fan (1200RPM 19dBA) and two side-mounted 120mm fans (1200RPM 17dBA) for hard-disk/water-cooling. Room is also supplied for a further 1x200mm, 2x140mm or 3x120mm top-mounted fan configuration along with room for a further two 120mm side-mounted fans.
Though at a premium cost, this case looks to be nothing but an improvement over the current and exceptional COSMOS S chassis. We can't wait to get a review out to our readers.