Remember SilverStone's unusual Raven RV01 chassis? It's been "coming soon" for as long as we can remember, and having slipped past the proposed launch months of September and December, it has now finally made it to Europe in 2009.
According to SilverStone, the Raven RV01 should now be available priced at €156.50 plus VAT, and a model featuring a window and black interior painting - dubbed the Raven RV01-W - will be available at a cost of €160.50 plus VAT. We've spoken to UK retailer Scan.co.uk and it currently has the windowed Raven up for pre-order at a cost of £171.35*, with stock expected to arrive on Tuesday January 20th.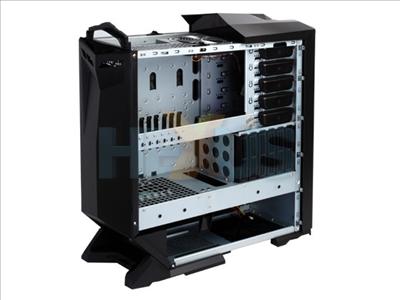 The chassis, pictured above, measures a substantial 280mm x 616mm x 660mm, weighs 15kg, and holds its motherboard at a 90° angle. The theory, is that all the internal hot air will rise up and out of the chassis.
To find out more about the chassis, head on over to our previous coverage or take a gander at Tarinder's video walkthrough from COMPUTEX 2008:
HEXUS Where2Buy: SilverStone's Raven RV01-W is available to pre-order from Scan.co.uk at a cost of £171.35
*As always, UK-based HEXUS.community discussion forum members will benefit from the SCAN2HEXUS Free Shipping initiative, which will save you a further few pounds plus also top-notch, priority customer service and technical support backed up by the SCANcare@HEXUS forum.