Lian Li announced its assault on the HTPC scene earlier this week with the launch of its behemoth Tyr X2000 HTPC/Gaming chassis. Most of us thought that the supposedly speaker-resembling design was simply too big for the living room.
Well then, say hello to its smaller counterpart, the Tyr X500. Like its bigger brother, the X500 is also said to resemble a multimedia speaker, though, we're still struggling to see the likeness between the Tyr series and any speakers we've seen.
It is, however, slightly less intrusive in size than the towering X2000. The X500 (pictured below) measures 230 x 380 x 585mm and "is ideally suited to smaller environments, while catering for bigger PC components than traditional HTPC systems," says Lian Li.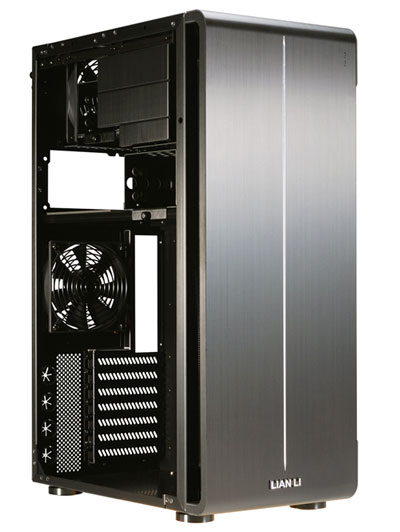 Features are similar to those offered by the X2000, there's a side panel that features two 5.25in bays and one 3.5in, accessible from either the left or right side. There's two 120mm silent intake fans up front, and two 120mm exhaust fans - one for each heat zone.
Across the top you'll find all your multimedia ports; four USB, Firewire, E-SATA and HD Audio. The smaller size, however, leaves slightly little less room to manoeuvre on the inside. Dual PSU's are a no-go, but there's space for a single PSU, 300mm-long graphics cards and four HDDs.
Sound proofing remains a priority and the 2mm-thick aluminium-alloy side panels are present, along with insulation material. If the fans create a whir unsuitable to your environment, you'll find the case provides support for water cooling, including a set of useful holes for water pipes.
Lian Li tells us the Tyr X500 will land in the next few weeks with a MSRP of $390. The X2000 will launch slightly later at $520.
Useful links
Official press release: Lian-Li launches the all new Tyr X500 HTPC/Gaming Chassis
Related reading: Lian Li launches X2000 chassis for the living room
Official product page: Lian-Li.com.tw