Latest addition to CHIEFTEC's Aegis range
Here's a new chassis from Taiwan-based company CHIEFTEC. As part of its Aegis range, this Aegis CX-05 is targeted at the gaming market.
Pictured below, the CX-05 features two front flaps. The upper flap reveals 3½" and four 5¼" bays and the lower flap reveals a DVD/CD mounting plate - handy for storing up to 10 discs. A little strange, but it could be handy.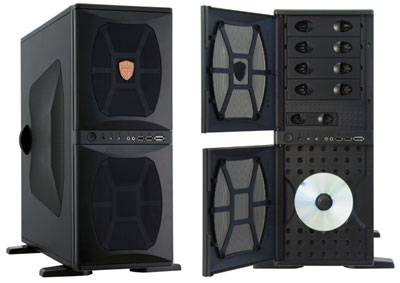 In between the two flaps you'll find all your connectivity options, mic in, line out, two USB ports and there's even an eSATA port too, as well as the usual LED lights and reset switch.
The CX-05 measures in at a height of 524mm, a width of 205mm and a depth of 540mm. With the depth available, the CX-05 will support mATX, ATX and EATX motherboards just in case you want to use the case as a server or workstation.
It'll let you install up to seven HDDs in a separately cooled compartment and the case itself can support up to 5 cooling fans (2 x 120mm and 3 x 92mm).
No word on UK pricing or availability just yet, but here are the technical specifications in the meantime:
Form-Factor:
mATX, ATX (CEB 1.01) & EATX (SSI EEB 3.x)
Dimension (DxWxH):
540mm x 205mm x 524mm*
*= without feet (with +18mm)
Weight:
16 kg incl. PSU
External Drive Bays:
4x 5 1/4" 1x 3,5"
Internal Drive Bays:
7x 3,5"
Power Supply:
none
Front-Interfaces:
2x USB2.0, 1x e-SATA, Mic-in, Line-out (HD-Ready)

Special Features:
Mediumtower in different colour design. Robust and space saving with mesh design in the front panel. The cabinet is 54cm deep, which can be installed with mATX/ATX and also EATX mainboards.

Scope of delivery:
Standard screws, mainboard spacers.
Optional fan(s):
1 x 120mm on the rear, 1 x 120mm on the top, 3 x 92mm on the right panel 
Official press release: CHIEFTEC AEGIS CX-05