Cooler Master has written to HEXUS to say that its new MasterBox Q300 Series chassis have hit retail. These are Micro ATX chassis (can also opt for a Micro-ITX motherboard) with room for full sized ATX PSUs and front radiators up to 240mm. Cooler Master chose to build these new chassis as it though that "case options in the mATX market aren't as vast as our community would like." Matteo Stracciari, Case General Manager at Cooler Master, added that "People that want a compact, customizable gaming case can look forward to the Q300 Series".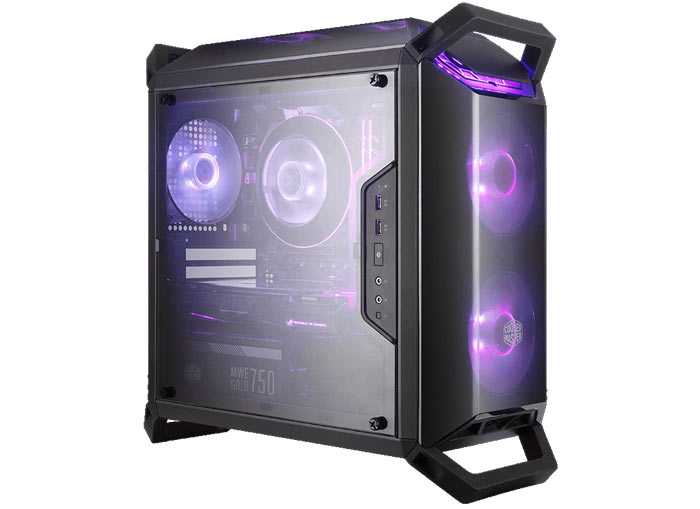 One of the particularly attractive qualities of the MasterBox Q300 series is how the I/O panel can be adjusted into one of six locations around the chassis. It is possible to configure it to reside on the front, top and bottom of both sides of the case. Such considerations can be very important to those fitting their PC system into a tight spot in the office.
Cooler Master reckons the MasterBox Q300 Series chassis are a good choice for a small and portable gaming rig for LAN use, with the power needed to support high-demand gaming sessions. The widest range of PSUs is available thanks to Cooler Master's choice of accommodating a standard ATX PSU in these compact cases. Additionally there is 28mm of clearance behind the motherboard tray for cable management / cable routing.

MasterBox Q300L
With all the features outlined above the Cooler Master MasterBox Q300L represents the minimised optimal dimensions (387 x 230 x 378mm) for such a system as judged by the firm's engineers. Described as "the straightforward option of the series," the Q300L is characterised by its patterned dust filters on the front and top panel with a large transparent side panel.

MasterBox Q300P
Cooler Master's MasterBox Q300P adds sure-handed portability and lighting to the above chassis proposition. Thus it has many of the same expansion and cooling possibilities. The biggest difference is probably the extra size added by the handles-design (it measures 450 x 230 x 450mm), and the reduced front radiator support due to the two pre-installed 120mm RGB LED fans behind the front panel.
RGB lighting is present thanks to a built-in RGB controller, two pre-installed front RGB LED fans, and an RGB LED angled top/front panel. You can see both cases in action, with the Q300P lit up, at the Cooler Master new chassis presentation (video) from CES 2018.
In its email to HEXUS, Cooler Master said that the MasterBox Q300L and MasterBox Q300P are available for purchase now online and in stores for a starting MSRP of £39.99 (Q300L) and £64.99 (Q300P.) Visiting the respective web pages there is indeed stock of both chassis at UK tech retailers including Scan, eBuyer and Box.co.uk.