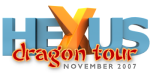 Thermaltake has built a solid reputation for some pretty extreme system cases… it's almost as if it gets a good idea, runs with it, keep running with it and then, just for good measure, does a Forrest Gump twice across America.
In fact, other than a PC-modder tripping on a caffeine overdose, Thermaltake is supplying some of the most tricked-out cases you'll ever see.

But outrageous case designs aren't everyone's bag. We do like the gizmos that Thermaltake adds to its cases but could do without a set of massive plastic fins or a bunch of LEDs spinning round in the shape of David Letterman (okay, that last one never happened but we'd bet a lot of cash that the idea did come up at some point).

Even so, Thermaltake has launched some pleasing cases recently that lovers of more traditional case designs could see themselves buying… a bit like sticking a chrome sleeve on your exhaust but not going for the full body skirt and underfloor lighting.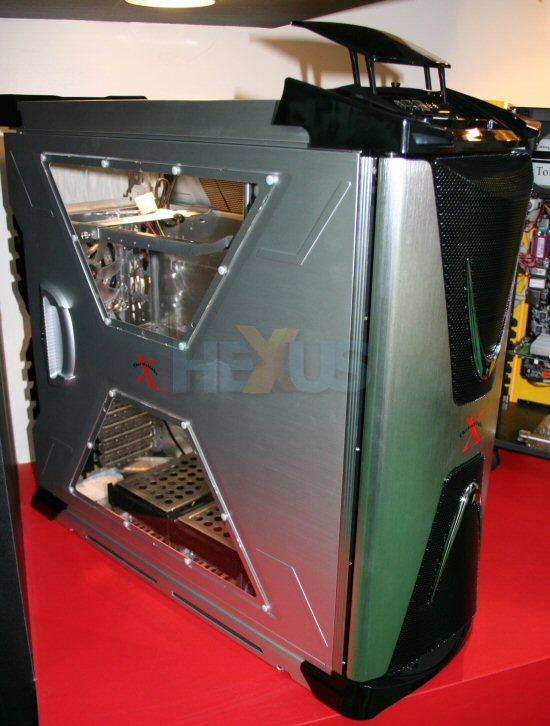 Click for larger image

And now there's a couple of more to consider - both revisions of existing designs. The Xaser VI is claimed to be the first case to incorporate 10 PCI slots - making it ideal for AMD's new double CrossFire solution, QuadFire, and still leaving room to slot in your other stuff - not that you'd be able to afford much else after spanking out on four CrossFire cards!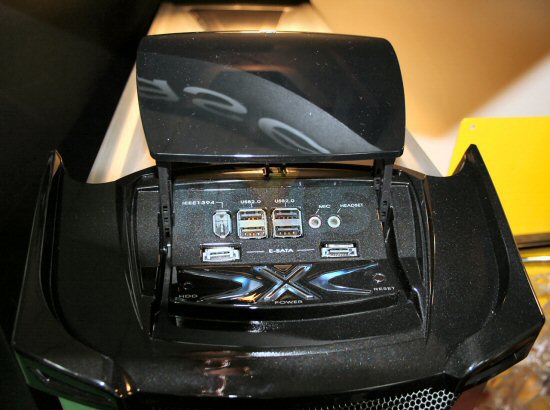 Click for larger image

The spring-loaded top cover on the Xaser VI conceals four USB ports, mic and headphone sockets, a FireWire port and twin e-SATA connectors. Down inside, the Xaser VI has a management system intended to make cables invisible - to maximise airflow and you can whack that to the max with up to seven Turbofans… just bolt the case down before you power on.

Next up is the Armor+, an evolution of Thermaltake's best-selling Armor chassis (okay, that was kinda obvious). Like the Xaser VI, the Armor+ gives you masses of room inside, so you can just go crazy with some extreme liquid cooling if you fancy. Fitting Quadfire should be doddle - there's tool-free configuration for the 10 PCI slots (and for the 5.25in drive bays, too).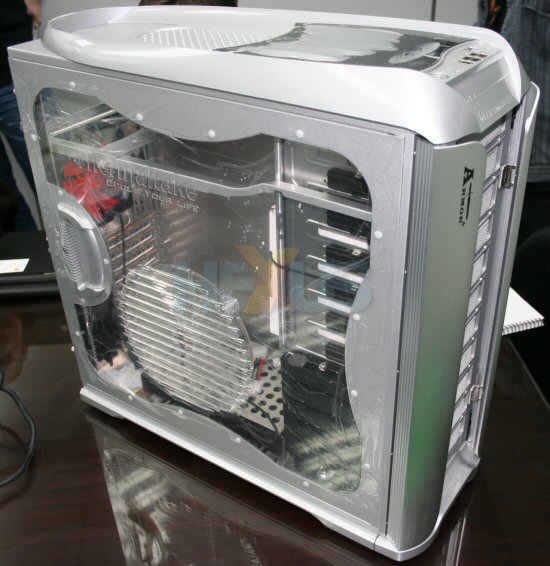 Click for larger image

Up top there's a sliding cover over the usual front breakouts and a handy tray for storing bits and bobs. And, and just like the Xaser VI, there are two removable HDD slots for when you fancy confusing the hell out of your RAID array by pulling a drive or two.