Mérignac, France, 25 August, 2021 - PNY announced today the addition of the XLR8 Gaming DDR4 2666MHz, 3200MHz and 3600MHz Low Profile Desktop Memory to the company's high-performance XLR8 line of PC memory for gaming PCs. These new modules offer the same performance enjoyed in the rest of the XLR8 lineup now featuring a low profile aluminum heat spreader for systems where space is at a premium.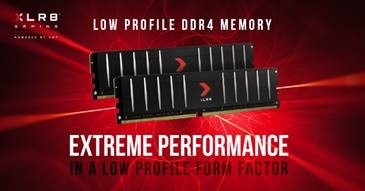 Low Profile Design
Heat spreaders offer improved thermal performance but compatibility, especially in small-form-factor systems, can often be an issue. The XLR8 Gaming Low Profile memory offer the greatest amount of headroom of all the overclocked memory in the lineup as the modules are only 32 millimeters tall, offering improved compatibility with the widest range of systems.
Maximize System Performance
Experience the benefits of a memory upgrade and maximize your system's performance. The newly announced low profile memory offers a wide range of frequency speeds and density options for optimal system compatibility. Increase your system responsiveness, multitasking capabilities and boost system performance easily.
Simple Overclocking with XMP 2.0
Extreme performance is made easy across the lineup with Intel XMP 2.0 compatibility, making XLR8 Gaming DDR4 Low Profile Desktop Memory the ideal choice for PC enthusiasts and gamers. Rather than directly overclocking through the complex BIOS settings in the operating system, take advantage of the effortless overclocking abilities of XMP 2.0.
Product Specification
Module Height: 32mm
Cooling: Integrated aluminum heat spreader
Frequency: 2666MHz (PC4-21300)
Frequency: 3200MHz (PC4-25600)
Frequency: 3600MHz (PC4-28800)
Product Availability
PNY XLR8 Gaming DDR4 2666MHz, 3200MHz and 3600MHz Low Profile Desktop Memory will be available at Amazon and other e-tailers and retailers from PNY channel. Learn more on PNY : www.pny.eu