THE environmentally friendly PSU that is both highly efficient and quiet, satisfying both WEEE* & ROHS* environmental Directives
St Albans, 23rd November 2005 –FSP Group announces the arrival of the new Environmentally Friendly GREEN PS power supply unit
FSP Group is a world leader in the design and production of power supplies and mobile power solutions, such as the Universal Notebook Adaptor (NB90 & NB120) along with cooling PSU's from the Zen Fanless Power Supply to Blue Storm.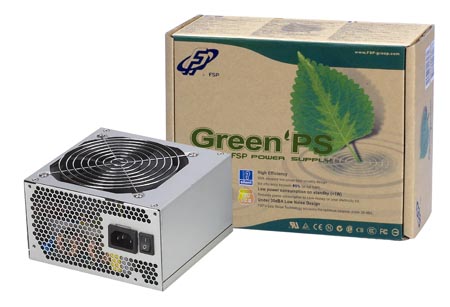 GREEN PS is:
Economical - Active PFC 0.99 power factor correction
Energy Efficient - High Efficiency >85% reducing power consumption & electricity bills
Environmental - RoHS and WEEE compliant, Low Noise Design
Quiet - Low noise design (<30db Full load, <25db Normal operation conditions)
Lighter - <2kg for reduced re-cycling tax in the EU
The ROHS directive (Restriction of Hazardous Substances in Electrical and Electronic Equipment) effective from July 1st, 2006 states that new electrical and electronic equipment must not contain harmful substances, as specified in the directive, and therefore must be replaced with other materials. In addition to this, an environmental tax will come in to play which will charge importers of electrical and electronic equipment based on weight (WEEE Directive).
FSP constantly seeks ensure its products are both responsible to its users and in line with both current and forthcoming legislation. To this end, the new Green PS PSU has been developed and it is both a lighter & more energy efficient PSU that is low on hazardous substances. From the selection of materials used to manufacture Green PS, FSP has successfully produced the first of its kind in the market.
Specifications:
* PCI Express Connector for graphic cards
* S-ATA Connector
* ATX 20+4 Pin Main power connector
* 400 Watt
* Dimensions: 140 x 150 x 86mm
* Input Voltage: 90Vac ~ 265Vac
* Frequency: 47Hz ~ 63Hz
* Active PFC Circuit
* MTBF: >100,000 hours
* Protection: OVP, OCP, SCP
* Low power consumption on Standby at <1W
Price and Availability
The GREEN PS Power Supply will retail at c. £55 inc. VAT
Available from:
MicroDirect
Scan Computers
Evesham
Distributors:
Agency Sales Ltd.
MES Components
For more information on the new EU directives visit:

*ROHS (The Restriction of Hazardous Substances in Electrical and Electronic Equipment Directive)
*WEEE (Directive on waste electrical and electronic equipment)
About FSP Group
Since the company's establishment in 1993, FSP's outstanding management team has drawn together R&D expertise, sizeable production capacity and outstanding product quality to consistently excel in the field of power supplies. "FSP aims to satisfy its customers, whatever their requirements, whether it be PC or IPC PSU's, adapters or open frames or even customized models for the most demanding of specifications". "Our motto is Service, Professionalism and Innovation. Our worldwide sales offices and technical centers further emphasize our commitment to the service we provide to our customers". Let us power your world! For further reference, please visit our website at www.fsp-group.com.tw.